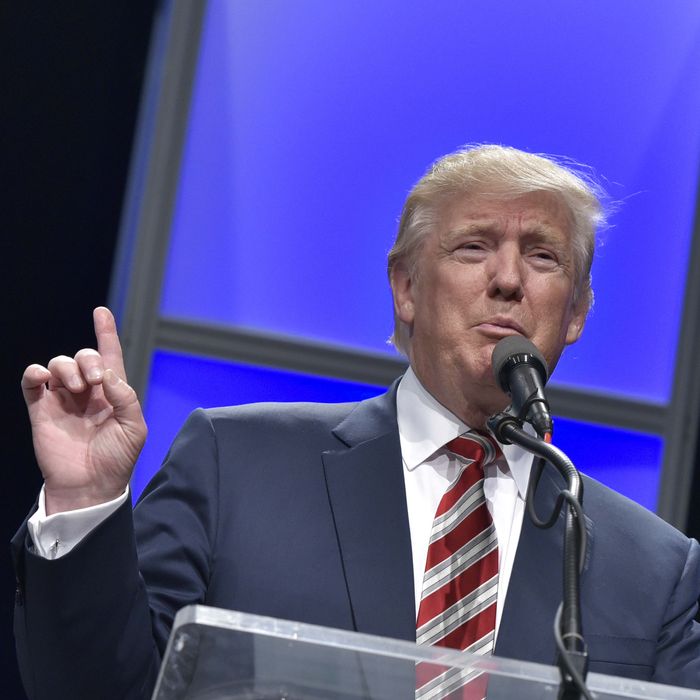 As always, adding a touch of crass to the debate.
Photo: Mandel Ngan/AFP/Getty Images
On Saturday, Donald Trump threatened, via Twitter, to invite Gennifer Flowers to Monday night's presidential debate in response to the news that the Clinton campaign had invited billionaire and vocal Trump critic Mark Cuban. Flowers, a former model who was involved in an extramarital affair with Bill Clinton in the 1980s, later announced that she would accept the invitation, though it was never clear if Trump's invitation has been officially offered to her. On Sunday morning, Trump's running mate, Mike Pence, insisted on Fox News Sunday that, despite Trump's suggestion, "Gennifer Flowers will not be attending the debate." Earlier Sunday, an anonymous Trump campaign aide had also ruled out Flowers's appearance, telling Fox News that Trump would not be inviting any special guests that would bring attention to the Clinton family's history.
Cuban has had an ongoing feud with Trump for years and has been trolling the candidate throughout the campaign, primarily on social media. He tweeted on Friday that he had a front-row seat to watch Trump get "humbled" by Hillary Clinton at Monday night's debate, a ticket which the Clinton campaign then acknowledged they had provided, with a Clinton aide telling CNN that the reason Cuban got an invite was because, "[H]e has proven to be singularly effective in making the case against Trump and for Clinton."
The Trump campaign released a negative ad earlier this week featuring footage of the Clintons being interviewed about the affair with Flowers, which Bill denied at the time but later acknowledged, and on Saturday, the presidential nominee tweet-threatened the proposed invite to Flowers. He misspelled her name in the first tweet he posted, so this is the revised one:
Buzzfeed News later confirmed with Flowers's assistant that she would accept the invitation, though it seems that Trump never actually invited her personally. Flowers tweeted her acceptance as well:
Clinton campaign spokesperson Jennifer Palmieri responded to Trump's tweet later on Saturday, saying that, "Hillary Clinton plans on using the debate to discuss the issues that make a difference in people's lives. It's not surprising that Donald Trump has chosen a different path."
Though a Clinton campaign aide had told CNN that Cuban was given "the best seat we have access to," an official at the nonpartisan commission which organizes the debates later indicated to CNN that the commission would oppose the strategic use of front-row seats by either campaign. Frank Fahrenkopf Jr., the co-chair of the Commission on Presidential Debates, told CNN that the commission would "frown upon" any attempt to "impact the debate" with the use of front-row tickets, and that the commission was working with the campaigns to resolve the matter. It therefore seems unlikely that either Cuban or Flowers would have been allowed to sit in the front row anyway.
Sunday on Fox, Mike Pence said that Trump's tweet "was actually mocking [an] effort by Hillary Clinton and her campaign to distract voters." Though, perhaps a more accurate characterization would be that Trump was responding to Cuban's invitation to the debate by attempting to mock Clinton by bringing up her husband's former mistress.
"Hillary Clinton apparently thinks this is an episode of Shark Tank, but this America, this is serious business," Pence said. Fox News Sunday host Chris Wallace also asked Pence why Trump, whose temperament and language toward women are already big problems with voters, would bring up Flowers at all.
"Well the question should really be: Why was Clinton and her campaign inviting some celebrity basketball-team owner to the debate to sit on the front row — someone who has mocked and ridiculed my running mate," Pence responded.
Wallace then pressed Pence on whether or not he really saw Cuban and Flowers as equivalent, but Pence didn't really offer an opinion about that in his answer:
Well look, Mark Cuban has been out there saying some pretty tough stuff about my running mate. Mark Cuban knows about as much about national security as I do about professional basketball. But the truth is that Donald Trump has a unique way of communicating to the American people. And I think his tweet yesterday was all about demonstrating that here we have in Hillary Clinton and her campaign just a couple of days before a debate of enormous importance in the life of our nation — she was trying to distract attention, her campaign trying to play games with front-row seats. Donald Trump's not about that.
Appearing on ABC's This Week, Trump campaign manager Kellyanne Conway was also asked about Trump's invite-threat. She tried to deflect blame onto Cuban as well, then said that Trump tweeted about Flowers because he wanted "to remind people that he's a great counterpuncher." She also criticized the Clinton campaign for taking Trump's bait in the first place, because now they have brought more attention to Bill Clinton's affair:
[Flowers] has not been invited by the campaign. She has a right to be there if somebody else gives her a ticket. But you know, I do think also it shows the poor judgment, a lack of nimbleness of the Clinton campaign that they actually put a statement out last night about Gennifer Flowers being invited, that it shows how easily provoked Donald Trump is. No, you just put out a statement and reminded people who had no — taught people who had no idea who Gennifer Flowers is, that she's the woman who had — said she had a 12-year affair with your husband when he was governor.
This post has been updated to include comments by Mike Pence, Kellyanne Conway, and the Trump campaign indicating that Flowers would not be attending the debate, as well as the Clinton campaign's response on Saturday.