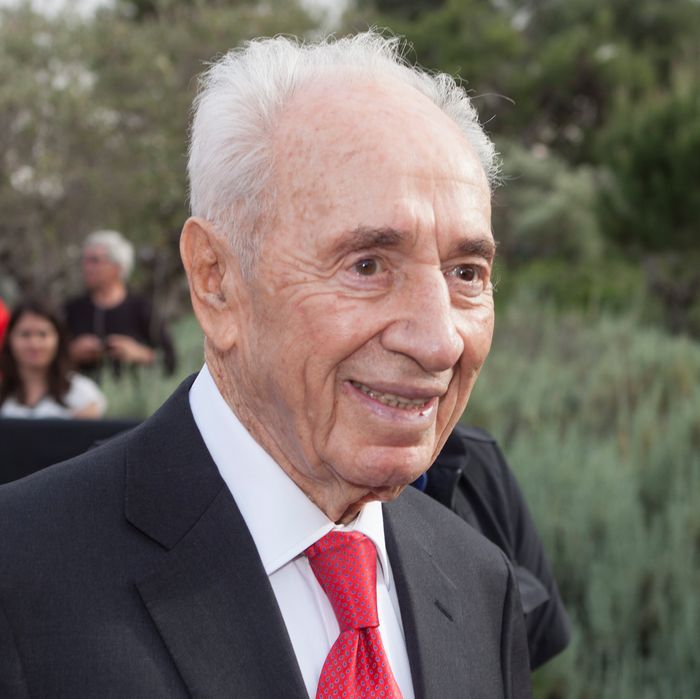 Shimon Peres.
Photo: NurPhoto/NurPhoto via Getty Images
Shimon Peres, a leading figure in Israeli politics for seven decades and a Nobel Peace Prize laureate, died on Wednesday in a Tel Aviv hospital, two weeks after suffering a stroke. He was 93.

"With tears we confirm the passing of former President, Prime Minister Shimon Peres. Israel has lost a founding father, a light for peace," the Israel News Agency wrote on Twitter.
Peres was born in Poland on August 16, 1923, and immigrated with his family to what was then the British Mandate of Palestine in 1934.

As a teenager, Peres helped found Kibbutz Alumot and got involved in politics, quickly rising up the ranks of what became Israel's Labor Party. He served as a top aide to David Ben-Gurion, Israel's founding prime minister, and was named director general of the Defense Ministry in 1951. In that position, he led the development of the nation's aerospace and nuclear programs, though Israel has still not acknowledged the latter.

Peres was first elected to the Knesset in 1959 and went on to serve in Israel's parliament for a record 48 years. He eventually held every major cabinet post and was prime minister twice. In 2007, the Knesset elected him to a seven-year term as president.

While Peres initially supported Jewish settlement of the West Bank and Gaza, he spent the later part of his career pushing for a two-state solution to the Israeli-Palestinian conflict. In 1993, while serving as foreign minister, he developed a plan with the Palestine Liberation Organization for limited self-government in Gaza and part of the West Bank. Peres persuaded his longtime rival Yitzhak Rabin, who was then prime minister, to accept the agreement, which became known as the Oslo Accords. He famously shook Palestinian leader Yasir Arafat's hand during a signing ceremony at the White House on September 13, 1993.

"We are sincere," he told the Palestinians. "We mean business. We do not seek to shape your lives or determine your destiny. Let all of us turn from bullets to ballots, from guns to shovels."
Peres, Rabin, and Arafat were awarded the Nobel Peace Prize in 1994, but the plan fell apart within the next two years as Rabin was assassinated, Hamas launched a number of suicide bombings, and Peres was defeated by Benjamin Netanyahu in his 1996 bid to be prime minister.

In 2000, Peres ran for president, which is a largely ceremonial position in Israel, but he lost in an upset to Likud candidate Moshe Katsav. He forged ahead, serving as Labor leader and then exiting the party in 2005 to join Kadima, the new centrist party formed by Prime Minister Ariel Sharon.

At 91, when his term as president ended, Peres returned to the nonprofit that he established in 1996 and continued his efforts to achieve peace in the Middle East.

Even so, Peres refused to quit. In 2001, at age 77, he took the post of foreign minister in the government of national unity set up by Ariel Sharon, serving for 20 months before Labor withdrew from the coalition.
"We have to make peace with the Palestinians," he said in a video interview posted by the Peres Center for Peace in 2015. "There's no way to achieve it in my opinion without a two-state solution."
Many world leaders offered condolences and remembrances of Peres on Tuesday night. President Obama said:

A light has gone out, but the hope he gave us will burn forever. Shimon Peres was a soldier for Israel, for the Jewish people, for justice, for peace, and for the belief that we can be true to our best selves — to the very end of our time on Earth, and in the legacy that we leave to others. For the gift of his friendship and the example of his leadership, todah rabah, Shimon.