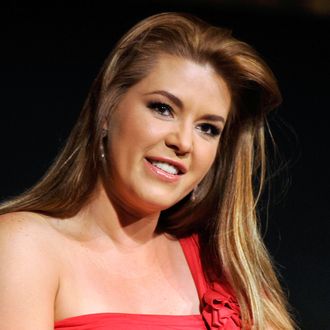 Photo: John Sciulli/Getty Images
Hillary Clinton's newest surrogate is brushing aside reports, gleefully trumpeted by Trump supporters, that she was involved in an attempted murder in 1998 and subsequently threatened to kill a judge. "You know, I have my past. Of course, everybody has a past. I'm not a saint girl. But that is not the point now," Alicia Machado, the former Miss Universe whom Donald Trump called "Miss Piggy" and "Miss Housekeeping," told Anderson Cooper Tuesday night.
Along with public humiliation at the hands of the GOP's presidential nominee, Machado's past includes a 1998 incident in which she was accused of driving the getaway car after her boyfriend shot a man. Machado was working as a soap-opera actress at the time, and this story could have been ripped from the script. This is how The Economist described the case in an article at the time:
The male lead in this complex plot is Miss Machado's rugged boyfriend, Juan Rafael Rodriguez Reggeti. He had a sister, who, eight months pregnant, jumped off a fifth-floor balcony. He, allegedly, blaming her husband for the suicide, sought revenge by firing two shots at him just after the funeral. The husband was hit but survived. Mr Rodriguez fled in a car driven, say the police, by Miss Machado.
The investigating judge, Maximiliano Fuenmayor, issued an arrest warrant for Mr Rodriguez. But Miss Machado, who claimed she was ill at home at the time, seemed to be in the clear, for the moment anyway. It was a short moment. Within hours, Mr Fuenmayor had a telephone call from her. He says she threatened to ruin his career and have him killed. She admits she rang, but says it was merely to thank him for his unbiased pursuit of justice. Mr Fuenmayor says she in fact threatened him with her powerful friends, from—supposedly—President Rafael Caldera down.
While the judge said he would open up a new case about the threats, it doesn't appear to have led to any charges.
Despite her legal troubles 20 years ago, Machado was able to gain United States citizenship in August. In an August interview with Inside Edition, she said she sought out citizenship in part to vote against Trump. "The United States is in a very important moment and we need to take the power to go and vote," she said.