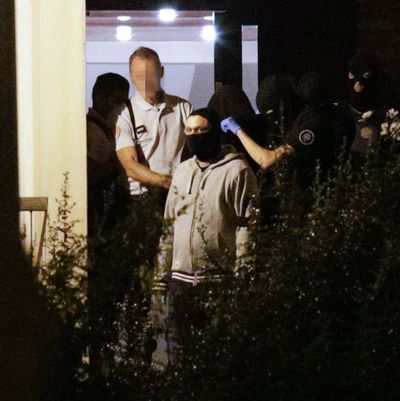 A woman (center, hood) is taken out of a building in Boussy-Saint-Antoine, south of Paris, on September 8, 2016, where female suspects, said to have been planning new acts of violence, were arrested.
Photo: Geoffroy Van Der Hasselt/AFP/Getty Images
Last weekend, French police found a car parked, with hazards flashing and no plates, near Notre Dame cathedral in Paris. Inside, police found seven gas canisters, one of them empty on the front seat. Police did not find any detonation device, but did uncover some papers with writing in Arabic, reports The Guardian.
French officials now say three "radicalized, fanaticized" women linked to that vehicle were close to carrying out an attack on the Gare de Lyon, one of Paris's busiest railway stations. Authorities have arrested those three women — a 19-year-old named Ines Madani, whose father owned the car; a 23-year-old; and a 39-year-old.
French interior minister Bernard Cazeneuve called it a "race against time" to stop these women, who reportedly plotted to attack Thursday. Police moved Thursday night to arrest the women in Boussy-Saint-Antoine, a town southeast of Paris. One of the women police tried to detain stabbed a cop in the shoulder with a knife; officers fired back and wounded the woman in the leg.
Police knew the 19-year-old Madani had terrorist sympathies after she reportedly tried to flee to Syria last year to join up with ISIS. Her dad, who was also on authorities' radars for past extremist ties, told police Sunday that his daughter had taken the car. The identities of the other women have not been released.
Earlier this week, French police also arrested and are questioning two couples — a 26-year-old woman and a 27-year-old man, and a 34-year-old man and a 29-year-old woman — in connection with the case. The two men are brothers, and police suspect all of "radical Islamism."
France, which has been under a state of emergency since the Paris attacks nearly a year ago, remains on edge. That deadly Paris massacre in November left 130 dead, and in July an ISIS-inspired assailant rammed a semitrailer truck through crowds in Nice, killing more than 80. Later that month, in Normandy, two assailants stormed a church and murdered a Catholic priest in what authorities suspected was an ISIS-inspired attack.