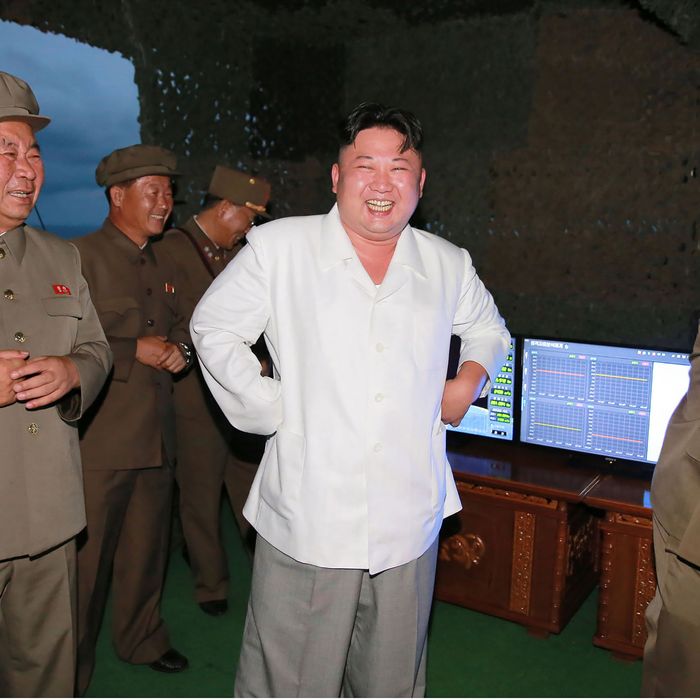 That smile is deadly.
Photo: AFP/KCNA VIA KNS
Good morning and welcome to Fresh Intelligence, our roundup of the stories, ideas, and memes you'll be talking about today. In this edition, North Korea tests a nuclear bomb, Trump's love affair with Putin continues, and Wells Fargo pays up. Here's the rundown for Friday, September 9.

WEATHER
Not a lot of changes today on the weather front — get it? — with rains continuing across the Plains States, obnoxiously pleasant weather on the West Coast, and high heat and humidity on the East Coast. New York City will be hot if a bit overcast today, with highs in the low 90s. [USA Today]
FRONT PAGE
North Korea Conducts Its Largest Nuclear Test to Date
Following a magnitude 5.3 seismic event in North Korea on Friday morning, the nation confirmed that it has conducted its fifth nuclear test. Experts say the test was three times larger than previous tests, with an estimated explosive yield of 10 kilotons. North Korea said the test was a success and claimed that it can now mount a nuclear warhead on a ballistic missile. The test was timed to coincide with the end of a summit of Asian leaders attended by President Obama and the 68th anniversary of the founding of the North Korean regime.
EARLY AND OFTEN
White House Hires Cyber Expert, Just a Few Years Too Late
The White House named its first federal cyber-security chief yesterday, eight months after forming the position. The job went to retired Air Force brigadier general Gregory Touhill. He will be tasked with protecting the government and other "critical infrastructure" from cyberattacks, a job that has taken on a new urgency in light of the recent hacks of political organizations that are widely believed to have been sponsored by the Russian government. [Reuters]
All It Took Was One Meeting for Trump to Throw Mexico's Government Into Disarray
The Mexican president announced his new finance minister today after the previous officeholder — his good friend Luis Videgaray — was forced to step down over his role in orchestrating Donald Trump's visit to Mexico City. The new finance minister, José Antonio Meade, wasted no time in establishing himself in opposition to Trump. "I'd like to point out that the only thing, absolutely the only thing I agree on with candidate Trump," he said, "is that Luis Videgaray is an exceptional public servant." That's some good politicking. [Reuters]
Trump Accidentally Gives Interview to Russian State TV, Thought It Was a Podcast
Just a day after singing Russian president Vladimir Putin's praises and comparing him favorably to President Obama at the Commander-in-Chief Forum, Donald Trump sat down for an interview with the Russian state-funded television network RT. Speaking to Larry King, Trump said that he felt Russian interference in the presidential election was "pretty unlikely" and probably a lie spread by the Democrats. He also reminded everyone that any foreign interference "would not be appropriate at all." Trump's camp has since confirmed that he believed he was doing an interview for King's podcast and not RT. Don't you hate when you accidentally give a wide-ranging interview to Russian television? [Politico]
Pence Wants In on Putin Lovefest
It looks like Pence's days of going rogue are over. The vice-presidential candidate was eager yesterday to try his hand at the unexpectedly popular GOP campaign pastime of praising a confirmed American adversary. Speaking on CNN, Pence said that "I think it's inarguable that Vladimir Putin has been a stronger leader in his country than Barack Obama has been in this country," and that "that's going to change the day that Donald Trump becomes president of the United States of America." Well, if it's inarguable. [WaPo]
THE STREET, THE VALLEY
Wells Fargo to Pay $185 Million Jerk Tax
Wells Fargo was forced to let go 5,300 employees and pay a $185 million fine over a widespread pattern of fraud that saw the bank open 1.5 million checking accounts and sign up for half a million credit cards using fake email addresses, but customers' real names and often even their money, all to meet quotas and all without the customers' permission.
There Is Finally an Extremely Good Reason to Turn Your Cell Phones Off in Flight
Just as airlines were beginning to loosen up on their whole "no using portable electronic devices" rule, Samsung releases a phone that could actually take down a plane. The FAA yesterday strongly urged flyers not to turn on or charge their Samsung Galaxy Note 7 smartphones mid-flight. The Galaxy 7s have the unfortunate habit of exploding, you see. [Reuters]

Intrepid Robot Explorer After Intergalactic Dirt
Yesterday, NASA launched a robotic probe tasked with collecting dirt samples from the asteroid Bennu and bringing them back to Earth for analysis. Scientists hope the dirt will hold clues about life elsewhere in the universe. We'll have an update for you in seven years when it returns. Watch this space. [Bloomberg]
Airbnb Tackles Its Diversity Problem
Airbnb announced a new push today to address its diversity problem and try to cut down on discriminatory renting by hosts. The company will mandate diversity training for its employees, minimize guests' pictures, and encourage hosts to use an instant booking feature that will not reveal the appearance of the guests. Looks like Eric Holder has been working hard. [WSJ]
MEDIA BUBBLE
AP Tries Its Hand at Futility
The Associated Press announced that it had deleted a two-week-old tweet about Hillary Clinton yesterday and used the occasion to unveil a new policy: The news organization will delete and correct "any AP tweets found not to meet AP standards." The original tweet read: "BREAKING: AP analysis: More than half those who met Clinton as Cabinet secretary gave money to Clinton Foundation." That has been changed to "AP review: Many of the discretionary meetings Clinton had at State were with people who gave to Clinton Foundation." [AP]
ProPublica Announces Electionland
A new reporting endeavor developed by ProPublica launched yesterday that should help newsrooms better cover the election in November. The service will monitor sources, including social media, for reports of voting issues and will alert journalists in those areas. Voters and journalists can sign up to be a part of the service here.

People Just Aren't Buying Toys, Starbucks, and Sudoku Like They Used To
Things are not going well for Barnes & Noble. The bookstore chain lost $14.4 million this quarter, and sales have fallen 6.6 percent. Sales of its e-reader, the NOOK, have dropped by nearly 25 percent. Now they'll have to remake You've Got Mail where Meg Ryan works at a massive Barnes & Noble in the mall and falls for Tom Hanks, an Amazon executive. [CNN]
PHOTO OP
North Dakota Reaches a Breaking Point
Thousands who have joined the Standing Rock Sioux await a judge's decision today on whether to halt construction of the Dakota Access Pipeline.
MORNING MEME
Somebody Somewhere Thought This Was a Good Idea
Wow. [Dallas News]
OTHER LOCAL NEWS
Cops Hope People Are More Afraid of Damaging Themselves With Zika Than Meth
A police department in Bath, Michigan, posted a warning on Facebook claiming that some batches of meth had been contaminated by the Zika virus and calling on people to bring their meth down to the station where the cops would test it for them. "If you recently bought some meth, you can bring it into the Bath Township Police Department and we can test it for you," the post read, "Your safety is our #1 priority!" [UPI]
Incident Sends Mixed Message, Luck-Wise
A Delaware highway was nearly shut down yesterday after a tractor-trailer flipped over, spilling thousands of blank pennies across multiple lanes. The truck was reportedly headed to the U.S. Mint in Philadelphia. [UPI]
HAPPENING TODAY
John Kerry to Meet Russian Foreign Minister, Discuss Syria
Secretary of State John Kerry is in Geneva today where he will meet with Russian Foreign Minister Sergei Lavrov in a push to kick-start the stalled diplomatic effort to end the Syrian civil war. [Reuters]
Clinton to Meet U.S. Official Who Actually Leaked State Secrets
Clinton will meet with a group of national security officials today in New York, including former CIA director David Petraeus and former George W. Bush homeland security chief Michael Chertoff. [Politico]

North Dakota Pipeline Decision Expected Today
North Dakota's governor has said that he will call in the National Guard today in preparation for the federal court's decision on whether to halt the construction of the controversial Dakota Access Pipeline. The pipeline has led massive demonstrations from Native American groups who say that they weren't properly consulted on a project that impacts the environment and their holy sites and burial grounds. [LA Times]