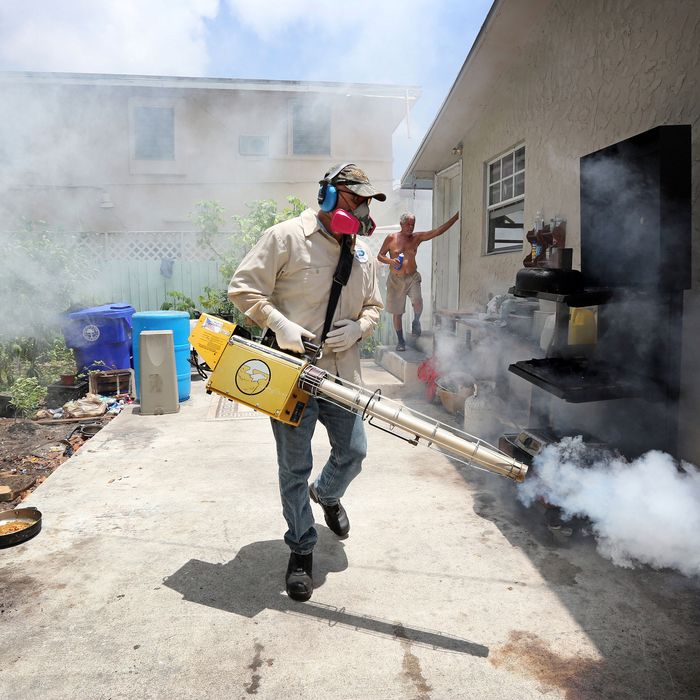 Mosquito killing in Miami.
Photo: Emily Michot/Miami Herald via Getty Images
Good morning and welcome to Fresh Intelligence, our roundup of the stories, ideas, and memes you'll be talking about today. In this edition, Trump shares more ideas on immigration, the world braces for a new iPhone, and the fight against Zika stalls. Here's the rundown for Wednesday, September 7.
WEATHER
Heavy rains in the Southwest could lead to flooding today. Storms and dangerous winds will continue to blow across the Midwest and the East Coast will be plunged back into a few days of high heat. New York City will be cloudy with temperatures in the mid-80s. [USA Today]
FRONT PAGE
Senate Fails to Pass Zika Funding, Again
Senate Democrats blocked a $1.1 billion package to fight Zika yesterday, after Republicans inserted language that would not allow any of the money to go to Planned Parenthood in the fight against the disease. Basically, the same thing happened in June. Finding funding for the fight against Zika will now be postponed until the end of the month, when Congress must pass stopgap-spending measures to avoid a government shutdown. The Centers for Disease Control and Prevention has already spent all of the $222 million allocated to it for fighting the disease and may need to cancel desperately needed programs, like a mosquito-control endeavor in long-suffering Puerto Rico. [NYT]
EARLY AND OFTEN
Shocker: Trump Has Opinion on Woman's Looks
Speaking to ABC's David Muir yesterday, Donald Trump said of Hillary Clinton, "I just don't think she has a presidential look, and you need a presidential look." This isn't the first time Trump has attacked Clinton's appearance, but he said it's okay because she "says things about me that are horrible."

Politicians Punish Duterte by Talking to Him Like a Child
Though the Filipino government said President Rodrigo Duterte regrets calling President Obama a "son of a bitch," Duterte was scolded further yesterday. Hillary Clinton reminded the Philippines of "a certain level of respect that is expected on both sides," and State Department spokesperson Mark Toner said that "words matter." Still, the U.S. went to pains to make clear that no lasting damage had been done to the countries' strategically vital relationship. [Reuters]

Trump Immigration Policy Still in Flux
Donald Trump has alighted on a new component of his constantly shifting immigration policy: refusing to grant visas — and something he calls "little goodies" — to any country that won't take back its undocumented immigrants with criminal records. He announced the new policy at a rally in Greenville, South Carolina, yesterday. [WashPo]
Trump Doesn't Think Being a Birther Is Such a Big Deal, Carson Does
Yesterday, Bill O'Reilly asked Trump if African American voters may take umbrage with his history of suggesting Barack Obama may be from Kenya. "I don't know, I have no idea. I just don't bother talking about it, but I don't know," Trump responded. "I guess with maybe some, I don't know why, I really don't know why." Ben Carson, on the other hand, in his role as worst Trump surrogate ever, took to CNN and called on Trump to apologize for his birther past. [Politico]
THE STREET, THE VALLEY
School Closure Leaves Hole in Wheel of Fortune's Commercial Breaks
Following recent pressure on for-profit colleges by the federal government, one of the country's largest is shutting its doors. ITT Technical Institute announced yesterday that it would close all of its 130 campuses, which serve more than 400,000 students, after the government said it was no longer allowed to admit students receiving federal aid. [WSJ]
William Ackman Really Loves a Challenge
The activist-investor William Ackman alerted embattled burrito-purveyor Chipotle yesterday that his hedge fund is now the owner of 9.9 percent of the company — that's 2.9 million shares. Ackman is expected to begin his trademark heavy-handed approach at turning the company around as it struggles with fears over food safety and the arrest of one of its executives for cocaine possession. [Reuters]
An Interesting Time to Get Into the Pipeline Business
Canadian pipeline operator Enbridge agreed yesterday to buy Houston's Spectra Energy in an all-stock deal worth $28 billion. The resulting massive energy giant will be a dominant presence in North America, even as prices for oil and gas slip. [WSJ]
MEDIA BUBBLE
Cosmopolitan's Joanna Coles Gets a Promotion
Cosmopolitan editor-in-chief Joanna Coles is stepping down from the role she's held since 2012 to become Hearst's first-ever chief content officer. She will oversee all of Hearst's magazines both in the U.S. and internationally. Coles reportedly said, "I love Cosmo" but "I just didn't have another sex position in me." [NYT]
Fox Settles With Carlson, Van Susteren Out
21st Century Fox and ex-Fox anchor Gretchen Carlson have reached a settlement worth $20 million in a lawsuit brought by Carlson claiming that she was repeatedly sexually harassed by her boss, the ex–Fox head Roger Ailes — who recently stepped down following the controversy. She also got an official apology. Fox also announced that anchor Greta Van Susteren is leaving the channel, reportedly because she is "troubled by the culture."
PHOTO OP
What's So Funny?
Bill Cosby was spotted laughing before attending a pretrial conference on Tuesday, where a judge said he will stand trial for sexual assault beginning June 5, 2017. [CNN]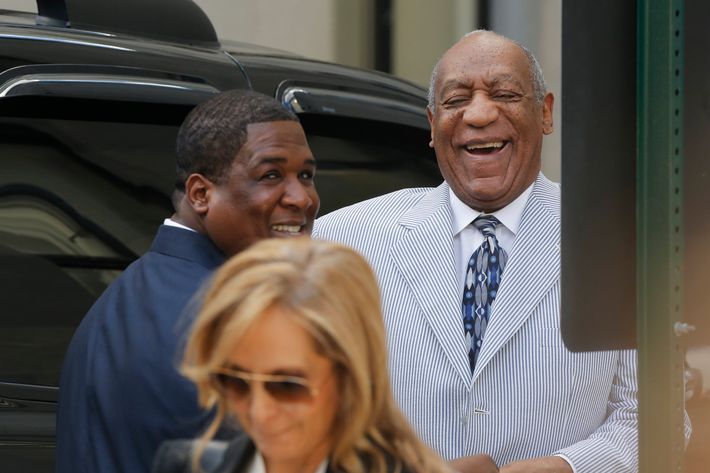 MORNING MEME
We Have Our Prediction for Next Year's Genius Grant
And we can't wait to hear all the remixes.
OTHER LOCAL NEWS
The Winner for Best Labor Day Barbecue
A tractor-trailer full of bacon — or rather, "a variety of pork products including ribs" — burst into flames on Monday while driving down the freeway in Cumberland, Maryland. There were no injuries but the fire burned for six hours before crews could put it out, and was smelled — with gusto we're sure — all over the county. [Cumberland Times-News]

Speaking of Car Fires …
They say when your heart's on fire, smoke gets in your eyes. But it can also get in your eyes when you light your ex's car on fire. Or, in the case of this Clearwater, Florida, teenager, when you light the car you think belongs to your ex on fire. Said teen is now in jail, with her ex driving around town in a not-on-fire car. [UPI]
HAPPENING TODAY
No Wonder Our iPhone Stopped Working Today
Apple is holding its annual event tomorrow where it will announce the next generation of its products. Expect a relatively minor update for the iPhone and the first ever upgrade of the Apple Watch. The iPhone may lose its headphone jack, so feel free to start freaking out. [The Verge]
Sony Takes From Apple's Playbook, Calendar
At the same time as the Apple event, Sony is planning on holding a press conference to announce its next generation of hardware. For Sony, this announcement should include a VR headset, a new slim PS4, and even some details about its next console, code named the PS4 Neo. The whole thing will be livestreamed on Twitch. [CNet]
Candidates Come Very Close to Sharing a Stage
Hillary Clinton and Donald Trump will both appear at the first-ever Commander-in-Chief Forum, an event sponsored by the Iraq and Afghanistan Veterans of America, on Wednesday night. The candidates will take the stage one after the other to answer foreign-policy questions. The forum will air on NBC and MSNBC. [NYT]