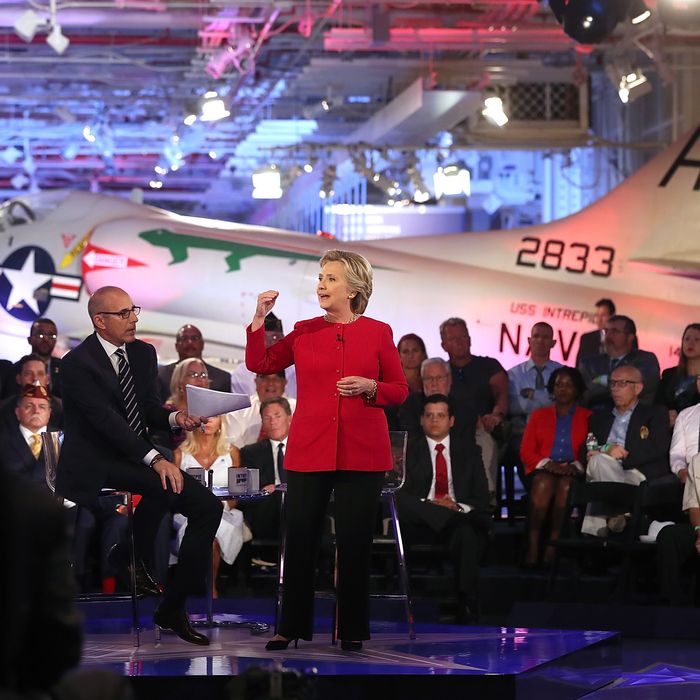 Hillary is all about planes recently.
Photo: Justin Sullivan/Getty Images
Good morning and welcome to Fresh Intelligence, our roundup of the stories, ideas, and memes you'll be talking about today. In this edition, the Commander-in-Chief Forum disappoints, but not as much as the iPhone or the latest Game of Thrones news. Here's the rundown for Thursday, September 8.
WEATHER
More of the same today, with driving rain expected across the middle of the country, and high temperatures baking the East Coast. The West Coast should be mild for the most part, with scattered showers. New York City will be hot and muggy with temperatures hovering in the upper-80s. [USA Today]
FRONT PAGE
Business As Usual As Commander-in-Chief Forum Makes Everyone Uncomfortable
The first campaign event to — kind of — feature both presidential candidates has come and gone, and it showed just how little the campaign has evolved in the last few months. As usual, Hillary Clinton spent most of her airtime answering questions about her use of a private email server, though the event was supposed to be about foreign policy. And as usual, Donald Trump pretty much just lied repeatedly. Matt Lauer is taking flak for his performance, with many complaining about his lack of hard-hitting questions and refusal to pose substantial follow-ups — even when Trump praised Vladimir Putin and claimed that President Obama is just as aggressive as the Russian leader.

EARLY AND OFTEN
Trump Wants a Bigger Army, Promises Not to Use It
Lest you think that Donald Trump's repeated calls for America to disengage its military from activity overseas meant that he wouldn't want said military to get a lot more funding, Trump happily clarified his position yesterday. At a rally in Philadelphia, he vowed to "ask Congress to fully eliminate the defense sequester" as soon as he takes office and to significantly expand military funding under his presidency. [WaPo]
The Right's New Conspiracy Theory: President Obama Was Born in America
In a radical break from his running mate Donald Trump, Mike Pence said that he believes the president of the United States was born in the United States. This goes against Trump's frequent suggestions that Barack Obama was secretly born in Kenya and managed to secure the White House thanks to a series of elaborately forged birth certificates. The move also puts Pence at odds with the majority of his party's voters, who also believe Obama was born in Africa.
Green Party Candidate Jill Stein Dabbles in Graffiti, Charged With Trespassing
Another day, another reminder just how outside-the-box this election is. Yesterday, the Morton County, North Dakota, sheriff's department announced that it would be pursuing charges against Green Party presidential nominee Jill Stein and her running mate Ajamu Baraka after Stein spray-painted "I approve this message" on construction equipment in protest of the controversial North Dakota pipeline. Responding to the controversy, Stein tweeted — complete with a picture of her mid-spray-paint — "The Dakota Access Pipeline is vandalism on steroids."
FBI Chief: Clinton Case Is 'Not a Cliff-Hanger'
An inter-bureau memo from FBI Director James Comey came to light yesterday, in which the director defends his choice not to prosecute Hillary Clinton over her use of a private email server, saying that the decision was "not a cliff-hanger." "Despite all the chest beating by people no longer in government," he wrote, "there really wasn't a prosecutable case." Notably, this is pretty much what he has been saying all along, but now people will have this memo to ignore as well. [WaPo]
THE STREET, THE VALLEY
America Braces to Lose Its Headphones
Apple unveiled its much-anticipated next-generation iPhone yesterday, and the reactions so far have been … mixed. The new iPhone 7 and 7S are quite similar to their forebears, with most attention focused on two new features: the absence of a headphone jack, which means most users will be investing in little wireless "AirPods" for $160, and a new color, glossy black, which the company itself has warned is prone to scratching. [Gizmodo]
U.S. Markets Hit Near-Record Highs, No One Blames Obama
U.S. stock indexes remain at near-record highs as the recently battered dollar showed signs of life. The S&P 500 Index closed yesterday within two points of its all-time high. Traders apparently remain confident that a rate hike from the Fed is still some ways off. [Bloomberg]
Wealthy Americans Do Love to Spray Champagne on Each Other
Formula One is facing its biggest upset in generations now that its majority stake has been sold to Liberty Media, the company of American media mogul John Malone. The deal was reportedly worth $8 billion and could eventually see the exit of Bernie Ecclestone, the face of British over-moneyed eccentricity and the sport's head for almost four decades. [Reuters]
Nintendo Stocks Find a Super Mushroom
Nintendo stocks were way up — like 18 percent up — again yesterday, all thanks to another mobile game. Following the success of Pokémon Go, the company debuted its first mobile Mario game at Apple's release event yesterday. Created by one of the series' original creators, Super Mario Run is only the first of a handful of planned Nintendo franchise mobile games. [Bloomberg]
MEDIA BUBBLE
Well, It Looks Like We Won't Be Watching Game of Thrones After All
The rumors of Angela Lansbury joining the cast of Game of Thrones next season proved to be unfounded. Representatives for the 90-year-old actress and best thing about staying home from school sick in the '90s have confirmed that she will not be appearing on the show. [CNet]
Trump or Trumbo? The Blacklist Is Over
As of yesterday, Donald Trump has officially ended his media "blacklist" and will begin approving requests for press credentials from Politico, BuzzFeed, the Washington Post, and all of the other news organizations that Trump has banned from covering his campaign appearances. "I figure they can't treat me any worse!" Trump explained to CNN when pressed over his change of heart. [CNN]
And Just When We Think We Have Snapchat Figured Out…
Big changes at Snapchat, where jobs will only last a short amount of time before disappearing forever. The social-media platform is jettisoning its local stories feature — and with it the people employed as local stories curators — in favor of coverage of specific events like, for example, the Super Bowl. [Bloomberg]
PHOTO OP
The Paralympics Begin in Rio
The 2016 Paralympics opened in Rio today. The event has been plagued with controversy and Brazil's new president, President Michel Temer, was loudly booed during the opening ceremony.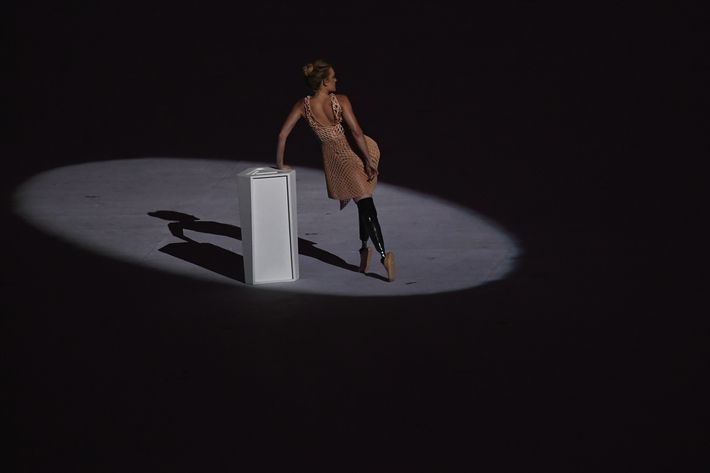 MORNING MEME
When You Look Up "Shade" in the Dictionary
Dayum, Merriam-Webster!
OTHER LOCAL NEWS
Raise a Barn, Tear the Roof Off
Police in Holmes County, Ohio, arrested at least 75 people over the weekend at an Amish "field party." More than 1,000 revelers were expected at the party, which celebrated Rumspringa, the notorious Amish rite of passage in which young people enjoy a brief respite from the strictures of their conservative society. Attendees were booked on charges ranging from underage drinking to resisting arrest. [Newser]
Tired Elk Misunderstands House Calls
When an elk in Pine, Arizona, got a tire swing stuck around its neck, he knew exactly what to do. He just made his way over to Debera Butler's yard, where the local veterinarian was able to free him. According to Butler, "it was amazing." Tire swings are the new six-pack rings. [UPI]
HAPPENING TODAY
The Planets Align Non-Metaphorically
Ready your telescopes, space fans! Over the next two nights, the moon will pass by first Saturn and then, on Friday night, Mars. Saturn is especially not to be missed — just make sure you catch it early as the planet will set by 11 p.m. [Space.com]
Hillary Heads to Church
Hillary Clinton will be in Kansas City today where she will address the National Baptist Convention, the largest and oldest African-American religious convention in the country. The National Baptist Convention boasts an estimated 7.5 million members. [The Christian Post]
Who's Ready for Some Oddly Politically Charged Football?
The 97th season of the National Football League kicks off — ha — tonight, though all eyes will probably remain on Colin Kaepernick, the 49er who has been refusing to stand for the national anthem in protest of police brutality and the United States' continuing oppression of black people. [NYT]