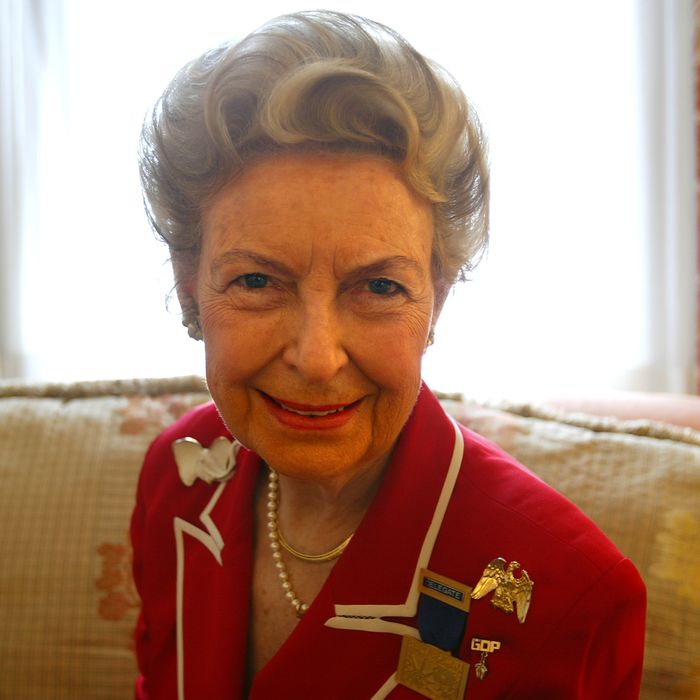 Phyllis Schlafly.
Photo: Alan Hagman/LA Times via Getty Images
Good morning and welcome to Fresh Intelligence, our roundup of the stories, ideas, and memes you'll be talking about today. In this edition, Clinton gets a new plane, Bernie returns to the campaign trail, and Obama gets no respect. Here's the rundown for Tuesday, September 6.
WEATHER
While everyone has been busy talking about storms on the East Coast, it looks like the Midwest will see the roughest weather today with potentially damaging winds, a danger of flash floods, and even a tornado or two. New York City will be rainy and gray with temperatures in the low-80s. [The Weather Channel]
FRONT PAGE
Phyllis Schlafly Dead at 92
Conservative activist, proud antifeminist, and right-wing darling Phyllis Schlafly died yesterday at home in Ladue, Missouri. She was 92. Schlafly made a name for herself in the '70s fighting against the Equal Rights Amendment. Later, she focused her considerable energies on the pro-life cause and, most recently, she endorsed Donald Trump for president. Trump described Schlafly as "a patriot" and "a champion for women." Schlafly described feminists as a "bunch of bitter women" and said that they would find "their greatest fulfillment at home with their family." [Reuters]
EARLY AND OFTEN
Clinton Gives a Press Conference, and All It Took Was a New Plane
Hillary Clinton unveiled her new plane yesterday, and with it, a cozier relationship with the press. The plane — a Boeing 737 with "Stronger Together" written across the body, and an "H" on the tail — will have room for the press corps, who will now travel with the candidate instead of on a second jet following behind her. Clinton was so happy with the new plane that she even gave a press conference onboard — her first in 275 days — in which she discussed Russia, President Putin, and the "credible reports about Russian government interference in our elections." [Politico]
Some Sanders Supporters Refuse to Stop Feeling the Bern
Bernie Sanders spoke at his first official campaign event for Hillary Clinton yesterday in Lebanon, New Hampshire, singing her praises to a crowd of around 300 people. "There should be no doubt in anybody's mind as to whether Hillary Clinton is the superior candidate because in every respect she is," he said. But all did not go smoothly, as a group of one-time Bernie supporters gathered outside to protest Clinton and even — gasp — threaten to vote for the Green Party. [NYT]
Obama Jumps at Rare Opportunity to Avoid Abuse
President Obama cancelled what would have been his first meeting with Filipino president Rodrigo Duterte in Laos yesterday, after Duerte referred to Obama as a "son of a bitch" to reporters. Duterte has been called the Donald Trump of Asia; he is a populist known for his controversial remarks — which have included jokes about rape, homophobic comments, and other vulgarities — and his encouragement of vigilantes killing drug dealers. Obama is in good company; Duterte has called Pope Francis a "son of a whore" in May, and called U.S. Ambassador Philip Goldberg a "gay son of a whore." The Philippines has since said that Duterte regrets the president took getting called a "son of a bitch" personally.
THE STREET, THE VALLEY
Bayer Really Wants to Buy Monsanto
After four months of wrangling, the German firm Bayer still wants to buy Monsanto. Yesterday, Bayer announced that it would be willing to pay $2.50 more per share, bringing the share price up to $127.50. If it goes through, the merger would create a massive global firm and a leader in "seeds and pesticides." [WSJ]
If Only Rob Reiner Made Space Movies …
After two long years, Rosetta and Philae have finally been reunited. Well not reunited, exactly, but the European Space Agency's unmanned spacecraft has been able to snap a picture of the powered-down space probe stuck in a crevice on the Comet 67P/Churyumov-Gerasimenko. Trust us, for a certain type of person, this is thrilling stuff. [CNet]
MEDIA BUBBLE
Newspapers Down, Get Kicked
As if things couldn't get more demoralizing for newspapers, now the Newspaper Association of America itself is changing its name to the News Media Alliance. The change is more than just cosmetic; the organization's print requirement is also being dropped, so now news platforms without actual newspapers can join up. [NYT]
PHOTO OP
We Hope Nobody Ever Looks at Us This Way
Syria may be a toss-up but America is totally winning the staring contest.

MORNING MEME
Whatever This Is, It Is Worth Your Time
Left without comment.
OTHER LOCAL NEWS
This Child-Hunting-Clown Thing Is Getting Out of Hand
The rash of sightings of clowns trying to lure children into the woods — seriously, how is this happening? — in South Carolina has crossed state lines. It has emerged that police in Winston-Salem, North Carolina, responded to two calls after two children claimed that a person dressed as a clown tried to lure them into the woods with treats. The two clown sightings took place two miles apart. [BuzzFeed]
Grandmother Knows What She Wants, Is Going to Get It
A 95-year-old grandmother in North Canaan, Connecticut, won $30,000 from scratch cards over the weekend. When asked what she would do with the money, she didn't think twice: "I'll give everyone a little bit and get a decent phone — something where you can actually see pictures." This lady's got it figured out. [UPI]
HAPPENING TODAY
Trump Ruins Mexico for Everybody
Hillary Clinton is officially declining her invitation from the Mexican president to meet with him in Mexico City. An interview with Clinton will air on NBC News this morning in which the candidate confirms that she will not be heading south of the border before the election in November. [NYT]
You've Seen the Plane, Now Read the Book
Hillary Clinton's favorite slogan, "Stronger Together," has been made into a book, which is hitting shelves today. The political tome — too strong? — has been published by Simon & Schuster and lays out Clinton and her running-mate Tim Kaine's policies. The proceeds will go to charity. [The Hill]