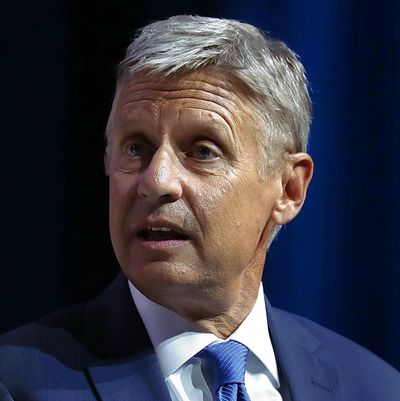 Straight talker.
Photo: Alex Wong/Getty Images
This is why we need to open up the debates to third-party candidates: On Thursday morning, Libertarian nominee Gary Johnson went on MSNBC and gave voice to the millions of Americans who can't recognize Syria's largest city by name.

For four years now, hardworking Americans all across this country have been looking at their newspapers, seeing headlines about the ongoing Battle of Aleppo, then choosing not to read those articles, and promptly forgetting about the whole thing.
And yet, no major-party candidate has had the courage (or political independence) to demand that the talking heads on our corporate media look the American people square in the eye, and answer, in no uncertain terms: What is Aleppo?
This isn't the first time that the former New Mexico governor has offered a vital contribution to the 2016 political conversation. Back in June, when countless Americans were listening to reports about the new $20 bill with bored incomprehension, Johnson demanded The New Yorker's Ryan Lizza get straight with the country, and explain, without euphemism: "Who's Harriet Tubman?"
And unlike the major-party nominees, who change positions with each turn in the political winds, Johnson has stayed true to himself throughout his time in politics. Per the New York Times' Gail Collins, in July, 2000:
June 6 – Boosting his friend George W. Bush to reporters, Gov. Gary Johnson of New Mexico recalls a conversation they had at a conference on state government. "George turns to me and says, 'What are they talking about?' I said, 'I don't know.' He said, 'You don't know a thing, do you?' And I said, 'Not one thing.' He said, 'Neither do I.' And we kind of high-fived."
(Hat tip to DI commenter "jmhm" for flagging that Collins column).