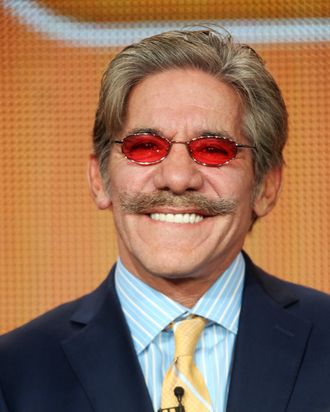 Photo: Frederick M. Brown/Getty Images
Longtime Fox News employee and even longer-time friend of Roger Ailes Geraldo Rivera has apologized for his unwavering support of the former Fox pooh-bah after allegations of sexual harassment surfaced. In a Facebook post that reads as if Rivera wrote it while wiping away tears, he writes that Ailes is "a deceitful, selfish misogynist, if the charges against him are true."
Rivera was initially among the Fox employees to come to Ailes's defense, although he did it with a truly bizarre comparison.
(Keep in mind that the bear's interaction with Leonardo DiCaprio wasn't exactly consensual.)
Rivera's change of heart appears to have come after HarperCollins decided not to publish his memoir, Geraldo of Arabia, From Tora Bora to Trump, which includes a "relatively flattering portrayal" of Ailes. This mea culpa may be his way of getting them to reconsider.
Along with his apology to Ailes's accusers and to New York's own Gabriel Sherman, whom Rivera called a "nerd with a grudge," the former daytime talk host indicts the entire news business as a place where villains like Ailes are allowed to run rampant. Kind of makes you wonder why he didn't believe the women accusing him then.
Another former Fox News employee, Greta Van Susteren, wrote a response to Rivera's apology that included an apology of her own. She says she's sorry for not believing Gretchen Carlson's complaints, then goes on to blame those who were in charge of Ailes for his failings. "I regret that Roger Ailes was not supervised by those in a public corporation who had the duty to supervise him," she writes.
In the end of his apology, Rivera invokes his daughter and implores readers to not be one of those people who reflexively write off the concerns of women who accuse powerful men of harassment: "To all the victims of sexual harassment, direct and indirect, I am sorry for what happened to you. As the father of three daughters, including one in the news business, I urge all who have been offended to reach out. Similarly, if you see harassment, say harassment, even if the alleged offender is an old friend."