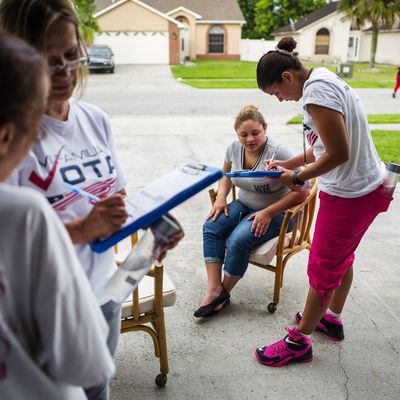 Photo: Charles Ommanney/The Washington Post/Getty Images
Mike Fernandez, a billionaire Republican donor, is pledging $2 million to help register new Latino voters in Florida, and then turn them out for Hillary Clinton on Election Day.
Historically, Latinos have been drastically underrepresented in America's voting booths. Among registered voters, the demographic is much less likely to turn out on Election Day than whites or African-Americans. What's more, there are millions of Hispanic legal residents who are eligible for citizenship but have neglected to apply for naturalization. These facts — combined with Latino voters' antipathy for Donald J. Trump — have made expanding the Hispanic slice of the electorate a top priority for the Clinton campaign.
Thus, funding Latino registration and turnout efforts offers Fernandez a means of opposing the GOP nominee — even if he can't quite bring himself to bankroll a Democrat (Fernandez does plan to vote for Hillary Clinton in November).
"As a lifelong Republican, I cannot support a Party I no longer recognize," Fernandez told Politico, explaining that he could not understand how the GOP "could not distance itself from a man who has taken such liberties with the facts that calling him a liar would not suffice."
In Florida, Hispanics account for more than 15 percent of registered voters. And their share of the electorate has grown in recent years, as the financial crisis in Puerto Rico has inspired many of that island's residents to seek better fortunes in the Sunshine State.
This represents a significant change in the composition of Florida's Latino voting bloc, diluting the influence of the state's historically conservative Cuban community. Trump has sought to win over that community with his calls to reestablish the Cuban embargo. But for Cuban-Americans like Fernandez, such appeals have lost their luster.
"As to my Cuban American community, how many more times have politicians told you what you wanted to hear and then did nothing? It's happening again," Fernandez told Politico, after saying that he no longer believes the embargo is effective. "This man is taking you and America down the same path of disappointment that you have lived for 60 years."
While Fernandez sees a world of difference between Mitt Romney and Donald Trump, recent polling suggests that many Hispanic-Americans do not.
As The Hill notes, Trump is actually outperforming Romney among Latinos in recent polls of Nevada, while Univision's recent battleground surveys show Trump drawing roughly as much support from Latinos in Arizona, Colorado, and Florida as the former Massachusetts governor did four years ago. In an average of several national surveys updated Tuesday, Bloomberg found Clinton leading Trump by 38 points among Hispanic voters — 6 fewer than Obama beat Romney by, according to 2012 exit polls.
Of course, Obama's margin among Latinos was large enough to cause widespread panic among GOP elites. And if organizers can significantly increase Latino registration, Clinton can win more votes from the demographic without improving on Obama's share of the overall Hispanic vote. Evidence suggests organizers are doing just that.
Meanwhile, in other money-in-politics news, Fernandez's fellow conservative plutocrat Sheldon Adelson appears to be drastically reducing his investment in Trump's presidential bid. While the casino magnate once suggested he would spend as much as $100 million on pro-Trump super-pacs, the New York Times reported Tuesday that he now plans to direct most of his largesse down ballot. The paper reports that America's leading opponent of online gambling will give $20 million each to a pair of super-pacs backing Senate and House Republicans, while setting aside a mere $5 million to efforts supporting Trump.