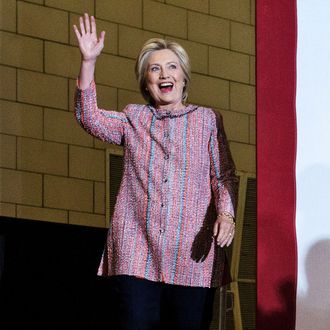 Photo: Brendan Smialowski/AFP/Getty Images
Unidentified hackers have leaked a cache of emails that show the schedules and precise movements of Hillary Clinton, Joe Biden, and Michelle Obama at recent events, in the latest cyberattack on the Democratic Party.
According to the New York Times, the emails were stolen from the personal Gmail account of Ian Mellul, a 22-year-old Democratic operative, and posted to the website DCLeaks.com, where personal emails from former secretary of State Colin Powell were also leaked earlier this month. They include detailed plans for the appearances of leading Democrats at campaign fundraisers and official events, complete with PowerPoint presentations showing exactly where the vice-president, First Lady, or presidential candidate should walk upon entering a room.
These "movement documents" don't include specifics about these public figures' security, the Times adds, but could compromise their security if leaked in advance of an event.
The emails include the names and Social Security numbers of numerous campaign donors as well as the names and cell-phone numbers of Secret Service agents. The hackers also posted what they claim to be a scan of Michelle Obama's passport information page, though the Times said the authenticity of this document was not verified.
The FBI is looking into the apparent hack. The Secret Service also said it was aware and concerned.
Mellul, a low-ranking party operative with little to no clout — whom the Times describes as effectively freelancing for the White House and the Clinton campaign — did not necessarily do anything wrong, but the revelation that Clinton campaign staff and Secret Service agents were exchanging sensitive information with someone's personal email account is bound to raise some eyebrows. Officials declined to comment on that.
Also on Thursday, the leading Democrats on the House and Senate intelligence committees released a statement directly blaming the Russian government for the recent series of hacks on the Democratic National Committee, the Democratic Congressional Campaign Committee, and other party groups, ostensibly designed to influence the outcome of November's presidential election, CNN reports.
The statement from California senator Dianne Feinstein and California representative Adam Schiff is the first to definitively accuse Russian intelligence agencies of being behind the attacks and to furthermore connect them to the highest levels of the Russian government, if not President Vladimir Putin himself.
"We believe that orders for the Russian intelligence agencies to conduct such actions could come only from very senior levels of the Russian government," the statement reads. "We call on President Putin to immediately order a halt to this activity."
No Republicans joined their statement, CNN notes.