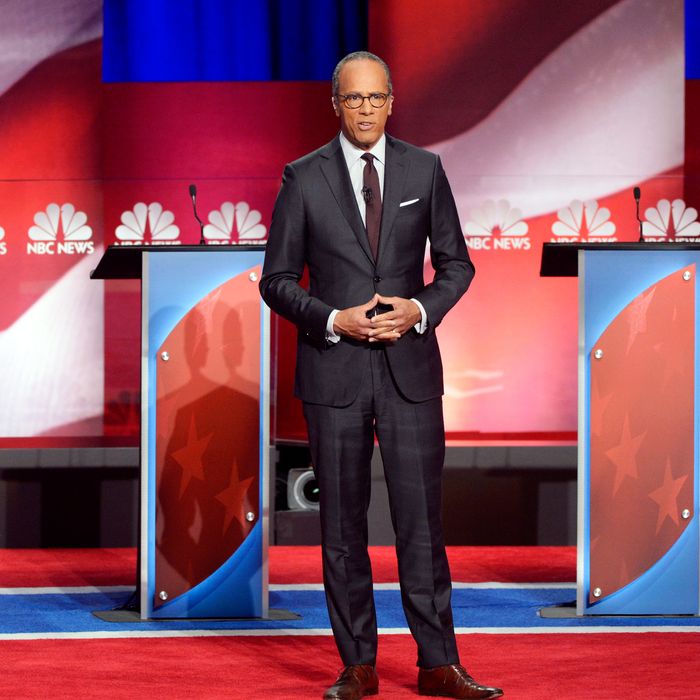 Lester Holt.
Photo: Virginia Sherwood/NBC
This fall, an emotionally volatile, deeply misogynistic reality star will go head to head with the first female major-party nominee, in a series of debates over which one of them deserves to be president. On Friday, the Commission on Presidential Debates revealed the media personalities who will referee these oratorical blood baths.
NBC Nightly News host Lester Holt will man round one on September 26; ABC's Martha Raddatz and CNN's Anderson Cooper will moderate the town-hall debate on October 9; and Fox News' Chris Wallace will host the final match-up on October 19.
CBS News correspondent Elaine Quijano will oversee the vice-presidential (a.k.a. "bland white man") debate, on October 4.
This will be the first time at the general-election debate rodeo for all involved.
The primary debates — particularly the Republican ones — were among the most-watched cable programs of the past year. The first GOP debate brought in 24 million viewers, the highest-rated non-sporting event in cable history. And the Democratic debates broke ratings records for the donkey party, despite lacking a single instance in which a candidate bragged about his penis size.
This fall's debates are expected to be the most widely viewed ever, offering Trump his last, best chance of convincing the American people that they dislike Clinton even more than they despise him. Or, at least, they will be his last best chance if he actually decides to attend them.