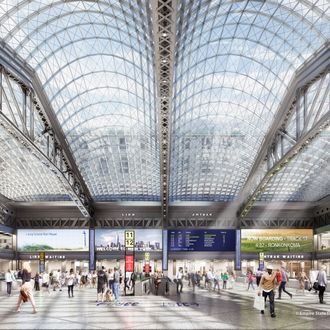 Moynihan Train Hall, which you'll have to convince yourself is the new Penn Station.
Photo: SOM
The hellhole known as the Port Authority Bus Terminal just released proposals for its future makeover, and now its neighboring blight of a transportation hub, Penn Station, has a revealed its potential new look.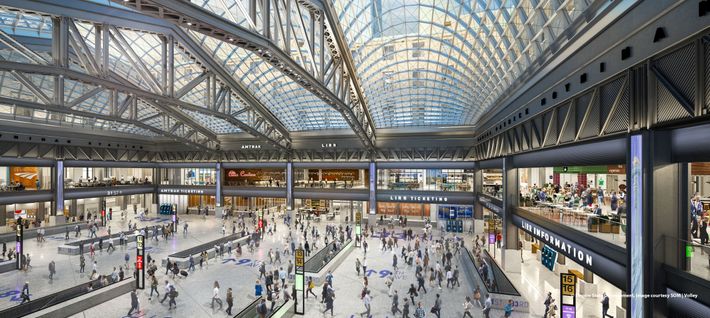 Governor Andrew Cuomo presented a plan Tuesday to turn the historic James A. Farley Post Office, located across Eighth Avenue from Penn, into a 255,000-square-foot train hall that will accommodate both Amtrak and the Long Island Railroad. The complex — to be dubbed the Moynihan Train Hall — will be even bigger than Grand Central. The station will rise ten stories and incorporate the hall's original trusses and skylight. The new station "will be magnificent and will be world-class, and New York will not have seen anything like it in decades and decades," Cuomo said.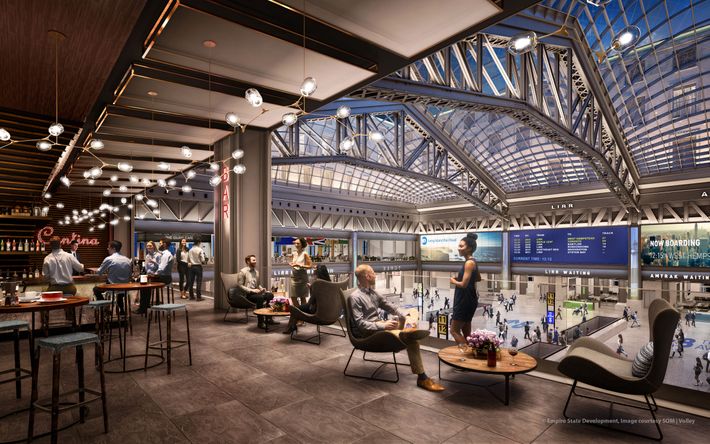 The Penn Station overhaul has been almost a quarter-century in the making, but Cuomo declared earlier this year that a redesign was really happening. The governor reiterated that promise, saying the new Farley Complex would open in December 2020. The current Penn Station is also getting a face-lift, but maybe not as ambitious as once proposed — sorry, no grand entrance. Riders can still access the busy LIRR here (this will be the line's "north concourse"; Farley will be its "west") and New Jersey Transit. Commuters will get a wider and brighter LIRR concourse at 33rd Street and raised ceilings which will have "giant LED screens displaying blue skies and clouds" to give commuters the sense that they're still trapped in basement, but now with better televisions. Penn's current Amtrak area will also be redeveloped, though the proposals are TBA. Finally, the MTA will redo the two subway stations — on the Seventh and Eighth Avenue lines — that link to the station. An underground pathway will connect the improved Penn to the Farley Complex to create one big mega-hub.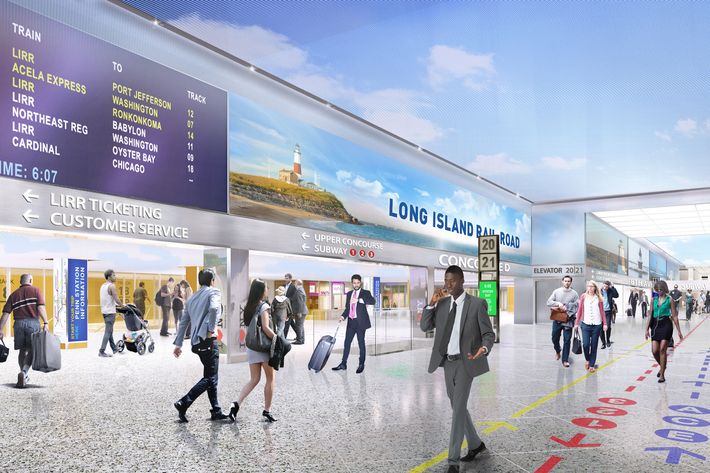 The developers on the project are Related Companies, which is a huge player in Hudson Yards, located just one avenue-block west, along with Vornado Realty, and Skanska AB. Now for the price tag: The transit hub's renovation will cost about $1.6 billion. Those developers will pay $600 million. The Empire State Development Corporation, the state's development agency, will pitch in $570 million. The remaining, approximately $425 million will come from public money from the federal government and from Amtrak, LIRR, and the Port Authority.
Here are a few more renderings, though spoiler alert, that 1,200-foot-tall roller coaster proposed by Brooklyn developers this summer doesn't appear to have made the cut.