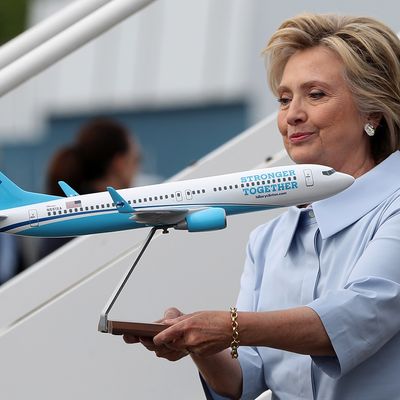 Does it have to be so roomy?
Photo: Justin Sullivan/Getty Images
Hillary Clinton kicked off Labor Day — the homestretch of the presidential campaign — with a brand-new jet. The plane is an American-manufactured Boeing 737 adorned with her slogan "Stronger Together" and "H" campaign logo and, in what is apparently not a design glitch, has enough space for the press corps to fly along with the Democratic candidate.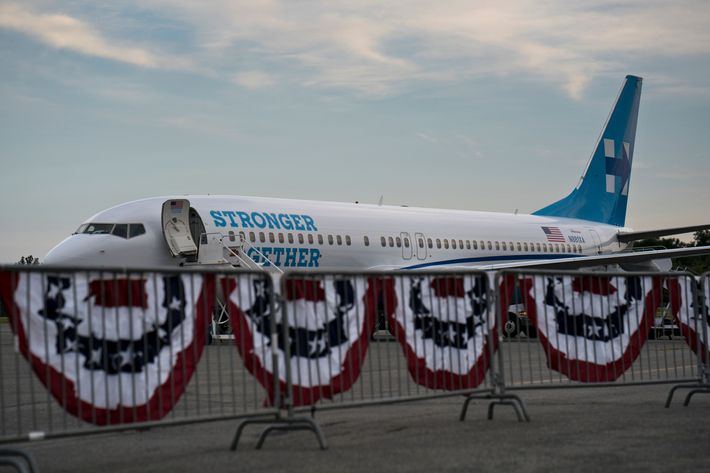 Clinton boarded her new, personalized plane at the Westchester airport Monday morning, before taking off for a campaign event in Cleveland, Ohio, with her running mate, Tim Kaine, and union leaders. Clinton took a moment before the departure to welcome the press pool, which is traveling with her for the first time this election cycle. "I am so happy to have all of you with me," she said to her media tormenters travelers. "I have just been waiting for this moment."
The candidate promised she would talk "more formally" with reporters later. Clinton's sometimes-tense relationship with the press has heated up amid criticism that she's failed to give a press conference in more than 270 days.
Donald Trump, presidential candidate and luxury-jet owner, tried to make a campaign issue of Clinton's new mode of transport. "New plane, more questions" said the subject line of an email message reportedly sent to members of the press, which prompted them to ask questions about Clinton's email server, according to the Washington Post. Trump, it turns out, was also in the swing state of Ohio on Labor Day with his vice-presidential candidate, Mike Pence. They led a roundtable with labor leaders, also in Cleveland.
Which means plane parking was a little tight in Cleveland:
This post originally cited a tweet from a fake Donald Trump Twitter account. It has been deleted, and we regret the mistake.