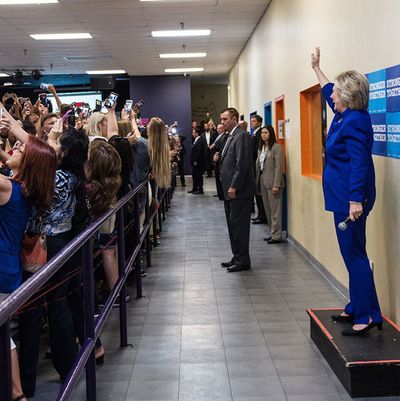 Photo: Barbara Kinney/Hillary for America
At a campaign event in Orlando, Florida, over the weekend, Hillary Clinton stopped for a brief moment to take a photo with some of her supporters. Perched atop a small riser in a cobalt blue suit, the Democratic nominee posed, one hand waving and a microphone in the other. While she did, the horde of fans in front of her, mostly women, raised their phones skyward, tilted their heads back, and took selfies. So many selfies. (Meanwhile, the Clinton campaign photographer, Barbara Kinney, was on hand to snap a photo of all the people taking photos.)
Online, many people were quick to cry "ah! millennials! bad!" (I'm paraphrasing, but you get the idea) about the selfie-filled image. "Hillary Clinton waves to the 'look at me' selfie generation," tweeted one Twitter user. "Crowd turns its back on Hillary Clinton as photo captures the age of the selfie" reads a dramatic headline from The Telegraph regarding the picture.
Except, the supporters were only obliging Clinton's request. The selfie was her idea, Barbara Kinney has since explained.
From Kinney, via Mashable:
Kinney said Clinton stood up on the podium and said, "Okay everybody, turn around and we'll do a group selfie," before making the staffers standing next to her move out of the way so each side of the room could take an aesthetically pleasing photo.
So maybe the supporters in the picture were nothing more than a bunch of selfie-thirsty millennials hungry for Instagram likes. But hey, Hillary asked. It would have been rude not to take a selfie.