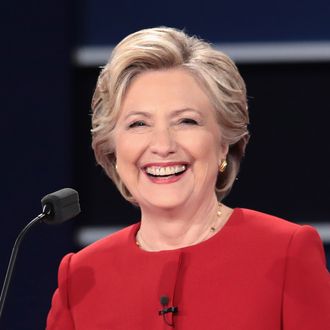 Can this day get any better?
Photo: Drew Angerer/Getty Images
If you're an Arizona Republican who's been anxiously waiting for your local newspaper to guide you through these difficult times, we have some shocking news: For the first time since beginning publication in 1890, The Arizona Republic has endorsed a Democrat.

The conservative editorial board didn't even seem very reluctant. The op-ed published on Tuesday mentions that Clinton "has flaws" and has "made serious missteps," but this is the extent of their specific complaints:

Clinton's use of a private email server while secretary of State was a mistake, as she has acknowledged. Donations to the Clinton Foundation while she was secretary of State raise concerns that donors were hoping to buy access. Though there is no evidence of wrongdoing, she should have put up a firewall.
The rest of the op-ed is a lengthy, point-by-point comparison of the two candidates, which concludes in each instance that Donald Trump is utterly unqualified to be president. For instance:

Clinton has argued America's case before friendly and unfriendly foreign leaders with tenacity, diplomacy and skill. She earned respect by knowing the issues, the history and the facts.

She is intimately familiar with the challenges we face in our relations with Russia, China, the Middle East, North Korea and elsewhere. She'll stand by our friends and she's not afraid to confront our enemies.

Contrast Clinton's tenacity and professionalism with Trump, who began his campaign with gross generalities about Mexico and Mexicans as criminals and rapists. These were careless slaps at a valued trading partner and Arizona's neighbor. They were thoughtless insults about people whose labor and energy enrich our country.
The editorial board argues that Arizona has "been there" on immigration, and knows intimately that Trump's hardline proposals don't work. Citing to the state's 2010 "show me your papers" law, they say, "Arizona understands that we don't need a repeat of that divisive, unproductive fiasco on the national level."
They also tackle one commonly cited reason for Republicans to vote Trump even if they find him reprehensible: Supreme Court justices. They say there's no reason to think Trump will keep the court conservative:

Trump's conversion to conservatism is recent and unconvincing. There is no guarantee he will name solid conservatives to the Supreme Court.

Hillary Clinton has long been a centrist. Despite her tack left to woo Bernie Sanders supporters, Clinton retains her centrist roots. Her justices might not be in the mold of Antonin Scalia, but they will be accomplished individuals with the experience, education and intelligence to handle the job.

They will be competent. Just as she is competent.
The Arizona Republic isn't the first traditionally conservative paper to go Never Trump. The Cincinnati Enquirer and Dallas Morning News have also endorsed Clinton. The New Hampshire Union Leader broke its 100-year tradition of backing Republicans by endorsing Libertarian Gary Johnson.
And Clinton picked up another endorsement from a high-profile Republican on Tuesday. Retired five-term senator John Warner of Virginia will announce she has his vote at an event in Alexandria with Tim Kaine, the state's current senator and Clinton's running mate.

"For 30 years, Virginians trusted John Warner in the Senate, and for good reason: He has dedicated his life to defending our country, from serving in the Navy in World War II to chairing the Senate Armed Services Committee, where I had the honor of working with him to support our men and women in uniform and their families," Clinton said in a statement to the Washington Post. "I am proud to have John's support, and to know that someone with his decades of experience would trust me with the weighty responsibility of being Commander in Chief."
The Clinton campaign is hoping to shore up Virginia, where the race has been tightening recently — though she still has a seven-point lead. And if Warner helps convince other Republicans that even their longtime archnemesis is preferable to Trump, so much the better.