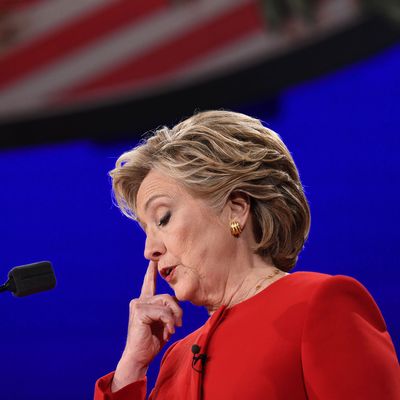 You know what to do, Lester.
Photo: Jewel Samad/AFP/Getty Images
When is a scratch of the nose more than a scratch of a nose? When it's a hand signal from Hillary Clinton to Lester Holt, telling the moderator of the first presidential debate to let Clinton jump in with a zinger.
That's what happened Monday night on a handful of occasions according to a YouTube video called "Signaled and Triggered #RiggedDebate," which had just over 60,000 views before YouTube yanked it down. Posted by a user called "400 lb hacker," the video was removed this afternoon due to a copyright claim, but other users have re-uploaded it. The theory, which Trump supporters are eating up, was also mentioned today by Rush Limbaugh on his radio show.
The premise of the conspiracy is hard to get behind. It suggests that Clinton's hand signals to Holt signaled him to give her a chance to speak without asking a new question, allowing her to let loose with a "zinger" related to the last thing Trump said. But why would that even be necessary? If Holt had completely changed the subject, there would have been nothing stopping Clinton from unleashing her "zingers" simply as an aside before starting in on the new topic.
Holt asking Clinton for her response to what Trump said was not a sign of him teeing her up, it was exactly how the debate was supposed to be conducted. Here's how the Commission on Presidential Debates described the format of Monday's debate: "The moderator will open each segment with a question, after which each candidate will have two minutes to respond. Candidates will then have an opportunity to respond to each other."