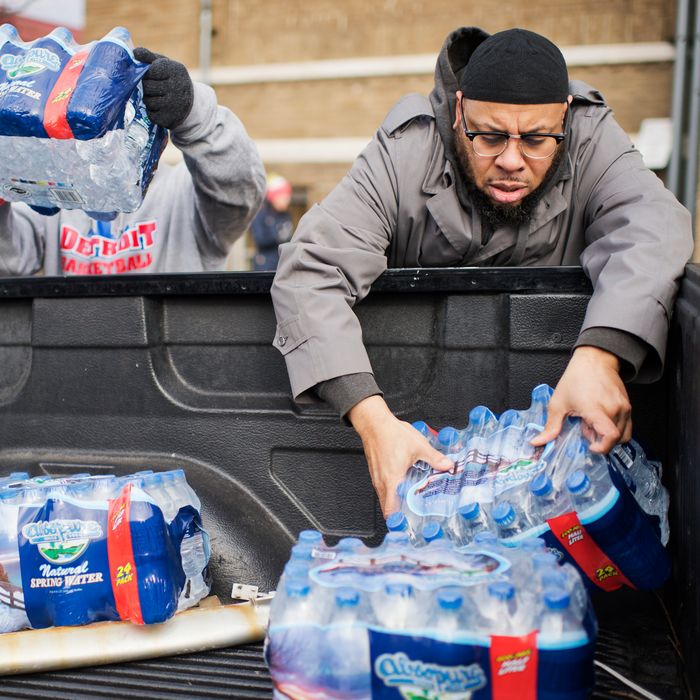 Volunteers load bottled water in a truck at the Sylvester Broome Center in Flint, Michigan, on February 22, 2016.
Photo: Tom Williams/CQ-Roll Call,Inc.
If you haven't been following Congress very closely thanks to the presidential election, you haven't missed much. Once again, we're facing a government shutdown at the end of the week, and both parties are accusing each other of using a tragic situation for political purposes — this time, it's the water crisis in Flint, Michigan. But there was a somewhat surprising development on Tuesday night. House Speaker Paul Ryan and Minority Leader Nancy Pelosi announced that they've reached a deal likely to provide relief to the people of Flint while averting a government shutdown — and they didn't wait until the absolute, final hours to strike a compromise.

Ryan and Pelosi agreed to let the House vote on Wednesday on an amendment to a pending water resources bill — the Water Resources Development Act, or WRDA — which would authorize up to $170 million in funding for communities whose water systems contain "chemical, physical, or biological" contaminants. Flint residents have had lead-tainted water running through their pipes for more than two years.

The vote does not necessarily mean that Flint will get the funding needed to replace its corroded water-supply pipes. As Roll Call explains, "the House still has to adopt the authorizing amendment and the conference committee will have to provide money for Flint aid in the final measure." However, it does make it more likely that funding for Flint will be included in a bill that lands on President Obama's desk, and it greatly increases the chances that Democrats will stop blocking the continuing resolution that Obama must sign by Friday at midnight to keep the government funded.

Earlier on Tuesday, a procedural vote on a continuing resolution failed to get the 60 votes needed in the Senate, largely because Democrats refused to advance any stopgap spending measure that did not guarantee funding for Flint. They were particularly incensed because Senate Majority Leader Mitch McConnell presented a bill that included $500 million in disaster relief for flooding in heavily Republican areas, mostly Louisiana and Texas, while ignoring their demands for aid to Flint.

In a speech on the Senate floor, Elizabeth Warren accused Republican senators of stiffing Flint because it's largely Democratic. "The Republicans who control Congress say there will be nothing for Flint. This is raw politics," she said. "Two Republicans represent Louisiana and two Democrats represent Michigan. Congress is controlled by Republicans, so Louisiana gets immediate help, but after a year of waiting, Michigan gets told to pound sand. Is this what we've come to?"
And things got heated on the House floor on Tuesday when congressman Dan Kildee, who represents Flint, said, "I hate to come to the conclusion that there's something about these people that causes this Congress [leadership] to decide they don't deserve that help," right after pointing out that most Flint residents are black.

Congressman Rob Woodall, a Georgia Republican, was furious. "How dare you suggest that folks don't care about your community. How dare you suggest that race is the basis of this?" he said. "You all are better than that. This institution is better than that."
Speaker Ryan has said that Flint aid is "more of a local government issue," but Republicans have accused Democrats of twisting the situation to make them look coldhearted as an election stunt. As proof, they pointed to comment Senator Jon Tester, chairman of the Democratic Senatorial Campaign Committee, recently made to the Washington Post about how Democratic candidates can retake the Senate. "What they need to show is what they're going to do when they get back here and show the fact that the Republicans really haven't done anything," he said.

Ryan and other Republicans argued that Flint aid should be debated as part of the water resources bill, and the Senate version of that bill authorized $220 million in aid to Flint. Democrats said they wanted it attached to the must-pass funding bill instead because there was no guarantee that money for Flint would be in the final version of the WRDA.

Congressman Kildee said on Tuesday that the issue must be resolved now because Congress is about to break until after the election. "There's no way I can imagine us leaving town and then taking sort of a promise that we will get to you later," he said. "And I'll tell you why. Later is worse for Flint. … Time works against the city."
Even if the WRDA passes this week, it may take until November or December for the House and Senate to resolve the differences in the two versions of the bill. And while it looks increasingly likely that the government won't shut down at the end of the week, the stopgap bill they're considering expires in early December. So once again, members of Congress won't be resolving their fight — they'll just be pushing it off to another day.