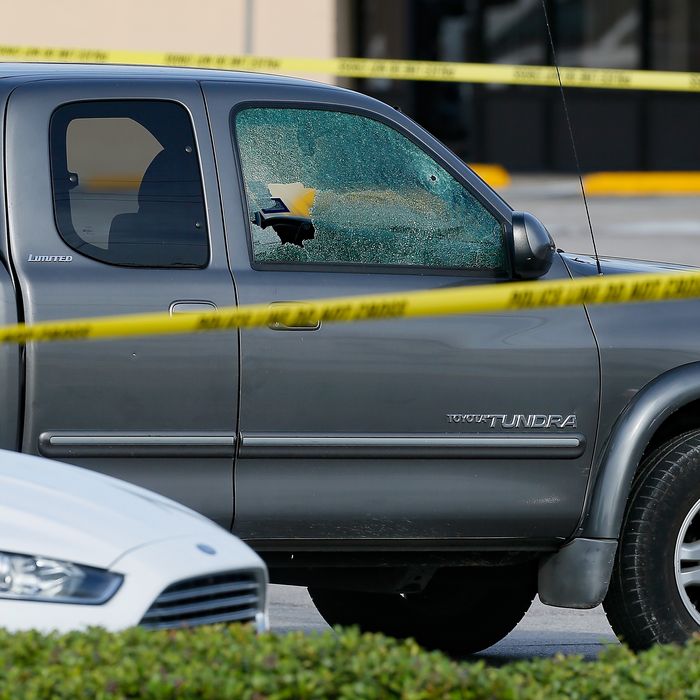 A bystander's truck hit by Nathan DeSai.
Photo: Bob Levey/Getty Images
Police say they found Nazi emblems on the vintage military uniform worn by Nathan DeSai, the shooter in Monday morning's mass shooting in Houston.
DeSai was an attorney who reportedly had been having problems with his law firm. Before sunrise Monday morning, near his apartment complex in a wealthy area of southwest Houston, DeSai opened fired on commuters, injuring nine — one critically and one seriously — before getting into a shoot-out with police officers.
Ultimately, it was a police bullet that ended the rampage, killing DeSai at the scene.
After the shooting ended, police discovered weapons in the shooter's Porsche, and a bomb squad was called to investigate the vehicle, though no bomb was found.
According to authorities, DeSai had two guns on him when he was killed — a semiautomatic handgun and a Tommy gun — along with a knife and more than 2,500 rounds of ammunition.
Police also searched the shooter's apartment, where they discovered more weapons and historic military paraphernalia "going back to the Civil War," according to Houston Police Department captain Dwayne Ready.
The property manager at the condominium complex where DeSai lived has said that police were called in August when DeSai allegedly pointed what appeared to be an assault rifle at roofers working on the property.
DeSai had a concealed-weapons permit, and the guns he used in his shooting spree were purchased legally. Police say they recovered 75 spent cartridges from the scene.