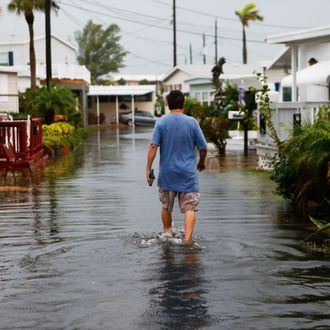 The aftermath of tropical storm Hermine in Holmes Beach, Florida.
Photo: Brian Blanco/Getty Images
Hurricane Hermine slammed into Florida early Friday, unleashing 80-mile-per-hour winds, lashing rains, and storm surges that deluged roads and homes near the state's Big Bend. One person has died after being hit by a falling tree. Hermine, now downgraded to a tropical storm, is still pounding southeastern Georgia and moving up the coast to the Carolinas. One of the next stops: off the shores of New York City during Labor Day weekend.
Hermine is expected to move up the East Coast and then slow down and stop Sunday into Monday, where it will basically chill out off the mid-Atlantic shores, says the National Weather Service. It might stall there through about Wednesday morning, which is a bit unusual and makes it a bit harder to predict its effects. "We don't have all the facts yet of what to expect in terms of this weekend and beyond," Mayor de Blasio said Friday at a press conference, "but we do know for sure we will feel serious effects of this storm."
Parts of New Jersey, southeastern Connecticut, Long Island, and all of New York City are under a tropical-storm watch, and forecasters are predicting all of the terrible things that come with these storms: Rain — possibly up to six inches on the coast — and a serious storm surge could cause coastal flooding. Wind gusts around 30 to 40 miles per hour could send down trees and interrupt power lines.
The other big risk: rip currents. The city is taking zero chances and shutting down all beaches to swimmers Sunday, and hasn't ruled out the possibility of closing them down Monday and Tuesday if conditions are still treacherous. "The number one concern is riptides right now," de Blasio said. "This is a very unusual situation. We could see some of the most intense riptides in literally ten or fifteen years. These could be some of the strongest and most dangerous riptides." He added that people shouldn't even "put a foot in the water" on Sunday.
Not that it's going to be much of a beach weekend, anyway. Friday is going to feel like the beautiful, perfect calm before the storm (leave now!). It's all going to go downhill Saturday night, when Hermine starts sending in the clouds and winds. Sunday into Monday is looking like a washout, and things are only going to get worse — and potentially very risky for those who are living along the shoreline. The National Weather Service is calling for "moderate to major coastal flooding … as well as heavy rains and strong winds" that could last through Tuesday.
Officials are warning everyone to really take Hermine seriously and prepare accordingly. The city's coastal areas — Coney Island, the Rockaways, Howard Beach, among others — could get walloped. De Blasio stressed that Hermine is in no way a Superstorm Sandy right now, but the fact that the system won't be moving out of the area quickly is a cause for concern.
The mayor also said there's potential for bridge closings, depending on the wind gusts. As of right now, Brooklyn's West Indian Day and the J'Ouvert festival will go on as planned, though with heightened security after last year's violence. Governor Andrew Cuomo also announced that he will activate the state's Operation Emergency Center on Sunday. The state will prepare equipment stockpiles, which include sandbags, generators, and pumps. The National Guard will also be on high alert.
So hunker down, check that you still have the batteries you bought for Joaquin, and hope that Hermine arrives with a whimper.