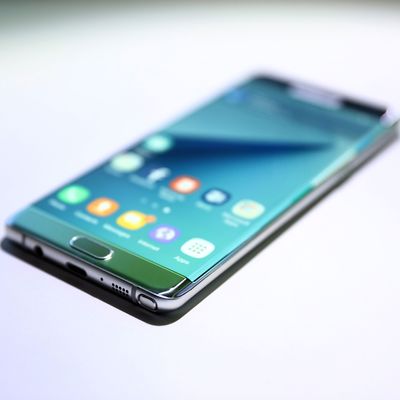 Photo: Bloomberg/Bloomberg via Getty Images
For years, Samsung and Apple have been rivals in the same way San Francisco and Los Angeles are rivals: The former considers itself more tech-savvy and frankly better, while the latter isn't really aware there even is a rivalry going on.
The two companies have squared off multiple times. There has been a series of international lawsuits about whether Samsung stole patented technology while designing their smartphones (and whether Apple faked evidence to make its case stronger). At one point, a story swept the internet that Samsung paid $1 billion owed to Apple in nickels (this was, sadly, untrue). Samsung put out a series of ads slamming Apple for its perceived lack of innovation (and the slavishness of its fans) around the launch of Apple's iPhone 5 and Samsung's Galaxy S3 (see if you can spot the Silicon Valley and You're the Worst cameos). And it's in this arena, smartphone vs. smartphone, that Samsung seems the most invested. Apple sells phones at high margins, using slightly underpowered hardware in smart ways to give a smooth experience. Samsung sells phones stuffed with high-end hardware and new ideas, but is always seen as an also-ran (and also can't sell its phones for anything near the margins that Apple can).
But by late summer, after years of missteps and not-very-successful launches, Samsung had two flagship phones on the market that neatly exceeded the overall feel of then-current iPhone 6s: the Samsung Galaxy S7 Edge and the Samsung Galaxy Note 7. The reviews for the S7 Edge, a sleek one-hander phone with a 5.5-inch screen and stunning camera, were overwhelmingly positive. "If you want the most stylish, most all-in-one phone that money can buy, you've found it," wrote CNET. The S7 Edge is "the most impressive piece of smartphone hardware I've ever held," wrote Dan Siefert at the Verge. I've been using one sent to me by Samsung on and off, and the reviews are true — the camera takes shots that stand up to anything the iPhone 6s puts out, the AMOLED screen is huge and beautiful (and makes switching back to the iPhone's LCD screen feel a bit disappointing), but it still fits comfortably in your pocket.
The reception to the Note 7, released in late August, was even better. "It's a jack of all trades, and the master of … everything," was the verdict from Wired. "Samsung has built its finest phone yet," said Engadget. The reviews weren't kidding. While it's pricey at $850, the Note 7 is remarkable in fitting so much phone and screen into such a smart package. It's a phablet that essentially doesn't feel like one — a two-hander that you can operate with ease as a one-hander. A host of other interesting features — retina detection for logging into the phone, dual cameras that took great shots, a beautiful OLED screen that made those pictures really shine — all added up to something special.
And there were signs that Apple fatigue was setting in. IPhone sales dropped for the first time in history for two straight quarters in 2016, and Samsung's S7s were outselling the iPhone 6s. The 6s hadn't added enough to its plate to convince iPhone 6 (or even iPhone 5) owners to make the jump. Part of this was just the tail-end of one generation of iPhones coming to an end, but sales had never slumped before the launch of the iPhone 6 or iPhone 5. More important for Samsung, Apple's next phone was widely rumored to not only look a lot like the iPhone 6s, but to come without a headphone jack at all. If there was a time Samsung was going to be able to convince a large number of weary iPhone owners to switch, this was it.
Samsung saw the opening as clearly as anyone else, and pressed suppliers and manufacturers to hurry the Note 7 to market. According to a Bloomberg report, the head of Samsung's phone department, D.J. Koh, began setting tighter deadlines, moving up the launch date of the Note 7 ten days earlier than the previous year. Key to this decision was the idea of putting in a 3,500 mAh battery that used about the same amount of space as a 3,000 mAh battery. (The iPhone 7 Plus, which currently has the biggest battery produced for smartphones by Apple, has a 2,900 mAh battery.) Samsung's entire phone division went into crunch mode, with employees sleeping at the office.
But the long nights and shortened timeline seemed to have worked. The Note 7 was unveiled on August 3, and hit retail stores on August 19, almost three weeks before Apple would take the stage. Then, around August 25, the first reports of Note 7s' batteries catching on fire began to surface.
The cases were strange: Usually owners were leaving their phones charging overnight, only to wake up to a phone on fire (or their garage or Jeep torched). The failure rate was low — there were only a few dozen cases reported out of the one million Note 7s sold, but well, Note 7s were catching on fire. When it comes to your phone battery spontaneously combusting, you want that failure rate to be really, really close to zero, not .0001 percent.
Social media was flooded with pictures of scorched mattresses and ruined phones. The news stories wrote themselves, the perfect "This phone might kill you" tease. By the time Tim Cook took the stage on September 7, Samsung has issued a full-on recall in most countries where the phone was sold, and on September 15 (the day before the iPhone 7 went on sale), the U.S. Consumer Product Safety Commission issued its own recall in the United States as well.
Clearly caught wrongfooted, Samsung's recall effort was clumsy — users were unsure how to return their phones and when they would get them back. (Samsung now says anyone can bring their phone into a retailer and get a replacement no later than September 21.) And for those that still wanted a Note 7, no dice — Samsung ceased all retail sales, though you can still snag it on eBay if you really want flout the nanny state saying we can't have phones just because they occasionally catch on fire.

CNET ran a Twitter poll asking Note 7 owners what they planned to do, and over half said they would either switch to an iPhone or switch to a different phone. (Nine percent said they planned to keep their phone regardless, which either shows that some people like to live dangerously, or Twitter polls are kinda horseshit.)
The Apple iPhone 7 was always going to do well — lines were around the corner here in New York during its first day on sale. And Samsung was never going to win over diehard Apple fans, or folks who don't want to deal with the hassle of moving from iOS to Android. But there is a not-insignificant portion of smartphone users who will want a high-end smartphone and are leery of life without a headphone jack. Samsung could have been the answer for people who didn't want to jump feet-first into a wireless lifestyle, AirPods and all.
Samsung says it's isolated why a few batteries were going up in flames — it appears something was happening to certain pressure plates within the phone when it was charged to 100 percent, which is why so many fires were starting while people were sleeping. And the root cause may be that Samsung simply tried to stuff too much battery into too little space.
The Note 7 will return to store shelves on Wednesday, and once it's back on sale it'll be the best Android phone available. But the opportunity to win over new customers (or even keep existing ones) has likely been lost. Thanks to its rush to beat Apple, the Note 7 is now no longer going to be known for its sleekly curved glass or the remarkable symmetry of its industrial design — it's just going to be the phone that kept catching on fire.