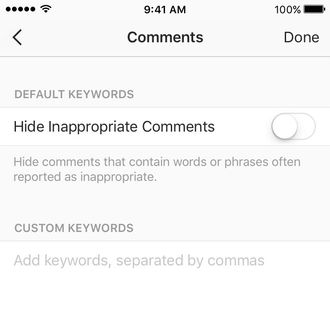 Photo-app Instagram announced this morning that its comment-filtering feature — rolled out to select (i.e., famous) users earlier this summer — will soon be available to everyone. Clicking the gear icon in the app will take you to a comments tool, where users will be able to specify words and phrases that they don't want to see in their comments section (like, say, the snake emoji, or "I made $275k working from home") . In addition, the tool also has a toggle switch for hiding comments "that contain words or phrases often reported as inappropriate."
On its official blog, Instagram CEO Kevin Systrom said:
The beauty of the Instagram community is the diversity of its members. All different types of people — from diverse backgrounds, races, genders, sexual orientations, abilities and more — call Instagram home, but sometimes the comments on their posts can be unkind. To empower each individual, we need to promote a culture where everyone feels safe to be themselves without criticism or harassment. It's not only my personal wish to do this, I believe it's also our responsibility as a company. So, today, we're taking the next step to ensure Instagram remains a positive place to express yourself.
Harassment on social media is now a perennial subject of discussion and complaint, mostly concerning abuse on Twitter (the service is supposedly working on a similar filtering feature). Instagram is, smartly, attempting to deal with harassment before it becomes a service-defining problem, as it has with Twitter. (It's also in Instagram's interest to ensure its celebrity users — like Taylor Swift — have the best possible experience.)
Instagram is also adding another small tweak. Now on photos with a lot of contributions, "more personalized, relevant comments" will be shown in the preview, rather than the two most recent.