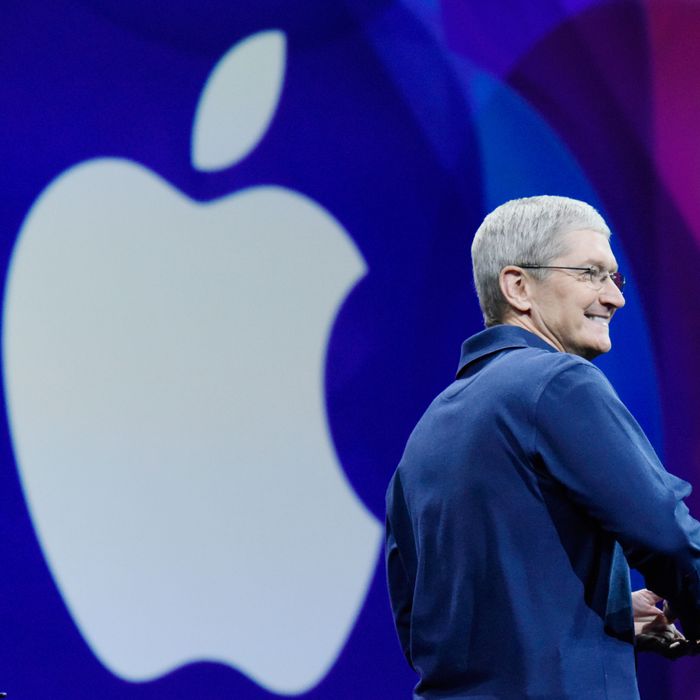 Photo: David Paul Morris/Bloomberg via Getty Images
Apple's big event, its September keynote, will be going down Wednesday at 10 a.m. PT, or 1 p.m. ET. Here are a few things to remember if you're thinking about livestreaming it from Apple.
You'll need to use Safari.
Cue the "LOL, the one time a year I use Safari" jokes, but, yeah, if you haven't upgraded the browser in a while or don't have it installed, you'll want to make sure you have it at the ready; otherwise, going to the livestreaming Apple page is gonna give you nothing.
The good stuff may not come during the first hour.
The unveiling of the new iPhone will be the highlight of the event, and Apple knows that. So if you care about the iPhone stuff, you can probably skip the first hour or so. In 2015, the iPhone 6s announcement happened around 93 minutes into a 140-minute presentation — though, in 2014, Tim Cook launched immediately into the iPhone 6 news, so you never know.
Still, Apple's standard operating procedure is to talk about updates and sales numbers and other smaller stuff before getting to the new phone. One caveat: If you are super into smartwatches, there's a very good chance the Apple Watch 2 will be announced tomorrow, and that will most likely happen before the iPhone 7 reveal.
Maybe avoid Twitter?
I mean, obviously check in with the Select All Twitter account constantly, but Twitter during an Apple keynote is tens of thousands of tech people doing "yes, and" improv live, which is like a production of Swan Lake put on by horses. There are funny tech people out there, but the good-versus-not-good joke ratio during an Apple keynote on Twitter is pretty abysmal.
Also, maybe just don't watch it?
John Herrman put this much more poetically over at the Awl in 2014, but, basically, consider how much you care about being among the absolutely first to know about, like, whether the new iPhone will come with Bluetooth earphones or ones that plug into the Lightning port. (Also, if you're watching the livestream, you won't be the first to know — it's on about a ten-second delay from what folks are seeing at the Bill Graham Civic Auditorium in San Francisco.)
If you're not a serious spec-head or gadget nerd, do you need to watch a two-hour-long PowerPoint (er, excuse me, Keynote) presentation about what a company plans to sell? There will be detailed roundups of every section of the keynote within minutes, and deeper analyses and buyer's guides and hot takes and counterintuitive takes about Apple's keynote by mid-afternoon Wednesday, and continuing on for probably the rest of the week. You will get your fill of Apple news, regardless of whether you watch the livestream or not.
No one can argue that Apple makes revolutionary products. That doesn't mean you have to watch this particular iteration of the revolution be televised.