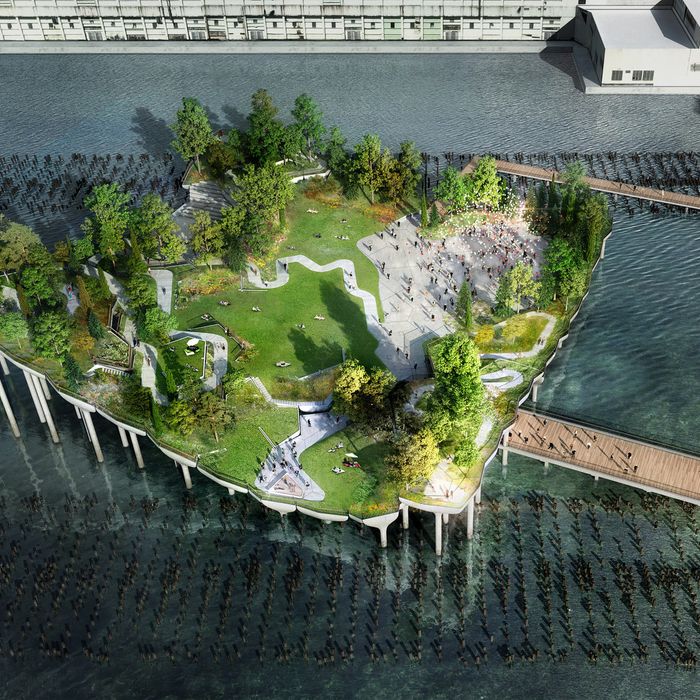 Coming in 2019.
Photo: Pier55, Inc./Heatherwick Studio
Construction can resume on Pier 55, the floating park in the Hudson River that's largely funded by IAC chairman Barry Diller. New York's Apellate Division sided with a lower court's decision and ruled against the City Club of New York and other opponents of the project, saying the Hudson River Park took a sufficient "hard look" at potential impacts. The court also dismissed the argument that Hudson River Park Trust was required to solicit competing bids before entering into a lease with Diller's nonprofit, Pier55.
Richard Emery, the attorney representing City Club of New York said he was "disappointed" in the decision, but the group will seek to get the case against Pier 55 heard in the higher Court of Appeals. The City Club also has a separate federal challenge pending against the Army Corp of Engineers, which gave the final okay in April. A Pier 55 spokesperson said they're "pleased to get back on the fall construction schedule," now that crews can resume work. Nine of the 550 piles that are going to support the structure have been installed, but an injunction in June — which stemmed from this suit — had otherwise halted progress on the 2.7-acre park. It should, if moguls stay out of it, be on schedule to open in 2019.