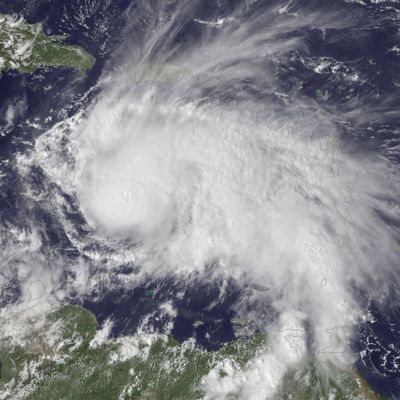 Hurricane Matthew
Photo: NOAA
The warm waters of the Caribbean Sea are fueling a hurricane that could turn toward the East Coast next week. Hurricane Matthew became a Category 1 storm Thursday afternoon, its sustained winds of about 75 miles per hour earning it the honor of being the fifth Atlantic hurricane of the season.
Matthew's models are all over the place right now, but forecasters predict that the tropical cyclone will keep heading west and then take a sharp right turn north, putting Jamaica, Haiti and the Dominican Republican, Cuba, and the Bahamas in its potential path. After that, things get pretty dicey. Matthew could lose steam once it hits those islands; it could head back east out to sea; it could also keep heading north straight for the Atlantic coast. Here's what the models are sayings, per the Washington Post:
Two of our best global forecast models, the GFS and the European, have consistently shown the turn to the north. But there is some divergence in predictions on Thursday. The GFS is suggesting Matthew will take a path up the East Coast, with a potential landfall. The European model, however, has a very wide spread in its possible paths — anywhere from the eastern Gulf of Mexico to a path that takes the storm well out to sea with little or no impact to the East Coast.
Matthew is spinning about 150 miles northeast of Curacao as of Thursday evening, and the other ABC islands — Aruba and Bonaire — are under a rare tropical-storm watch, along with parts of the Colombian coast. The storm passed over the Leeward Islands, dumping heavy rains and delivering strong winds. The storm killed at least one, a 16-year-old boy who was crushed by a boulder while trying to clear a drain.
Still, it's much too early to tell where Matthew will go after this weekend, or how strong it'll be if it heads toward New York. And it's not like forecasters haven't been wrong before.