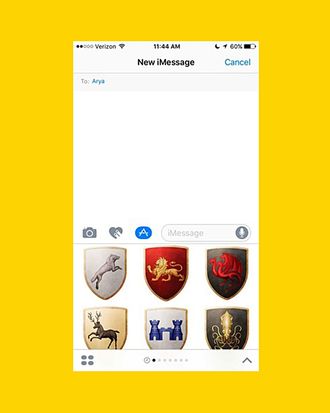 Game of Thrones stickers for iMessage.
Today is the day: iOS 10 officially rolls out for all Apple owners. (Which is great, because I'm getting sick of the slightly buggy beta version I've been running since July.) As part of the new system, iMessage is getting a major overhaul, including emojification, invisible ink, stickers, and (maybe most important) built-in apps. Now, you'll be able to send Kimoji or book a dinner reservation on Open Table right from iMessage. (To read more about the new features, click here.)
To download and access iMessage apps, just tap the App icon, which (once you update to iOS 10) is located just to the left of the box where you compose your messages.
Within the store, you'll be able to download apps, including options from Fandango (order movie tickets); Dunkin' Donuts (place and pay for orders); Words With Friends (play with friends without leaving iMessage); and Lark (consult a personal health coach).
Sticker packs range from characters from Frozen and Powerpuff Girls, brands like Starbucks and Iris Apfel, and even a set of accessibility-friendly stickers in American Sign Language. (Many of the packs are free, but some, like Disney's Star Wars stickers, will cost $2. You'll have to decide if BB-8 is worth it.)
The new apps seem convenient and and the stickers are fun enough. (Though I can picture, just off the top of my head, at least five scenarios where having Tinder integrated into a group message thread might not end well. A Tinder app is coming soon to the iMessage app store.) But they also feel familiar. Back when Apple first announced apps were coming to iMessage (with an only slightly ridiculous demo where Craig Federighi mock-ordered 5,000 samosas via DoorDash) it was hard not to notice the similarities between the new iMessage apps and Facebook's ever-growing list of Messenger bots. Not to mention, stickers have been a staple of Messenger for several years now. Much like Instagram taking recent product inspiration from Snapchat, Apple's new features seem like a smart way for iMessage to keep up with its competition. Mostly by giving users fewer and fewer reasons to ever need to leave the app.