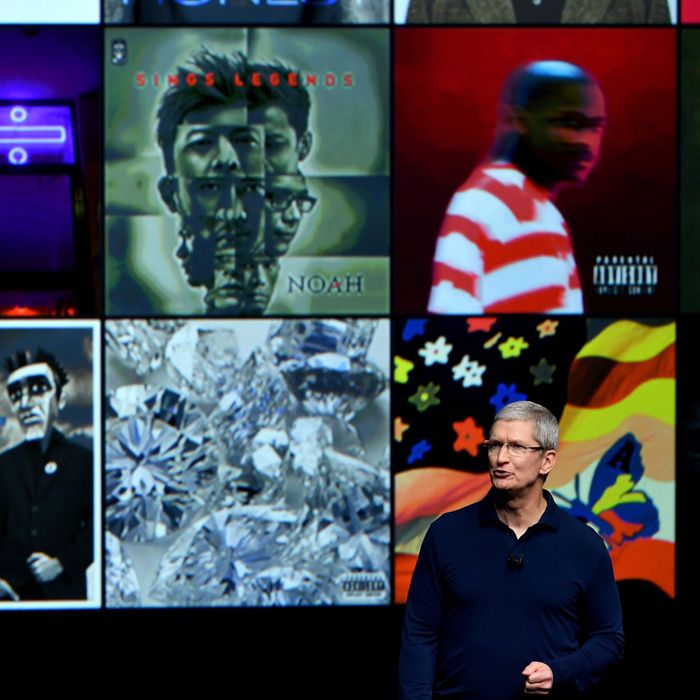 Tim Cook speaks about the hot, new tunes and content available only on Apple Music, a premium content destination.
Photo: Josh Edelson/AFP/Getty Images
Buried in the opening of Apple's keynote, on Wednesday, was an important statistic: Since it launched last year, Apple Music has had 70 "exclusives." That's 70 albums or videos or EPs that were available only on Apple's streaming platform for some period of time. The competition for such limited editions is an ongoing arms race between streaming services: In the past year, Kanye West, Rihanna, and Beyoncé have provided exclusives for Tidal (in which they have an ownership stake), while Apple has countered with Drake, Chance the Rapper, and most recently, Frank Ocean. (Spotify has chosen to sit this battle out, saying "exclusives are bad for artists, bad for consumers and bad for the whole industry.")
Frank Ocean released Blonde exclusively on Apple Music under his own label, not on Def Jam, theoretically giving him a greater cut of the proceeds in addition to any sort of bonus that Apple is paying for rights. In the aftermath, it was reported that Universal Music Group, which runs Def Jam, will reconsider whether to allow streaming exclusives, and the company's logic is understandable — Apple, which already took advantage of music-industry weakness in the '90s to make iTunes the dominant paid download platform, is now seemingly in position to usurp record labels altogether.
Music listeners frequently complain about exclusives on grounds of inconvenience. But the likelihood is that there are only going to be more of them.
Exclusive streaming music is a relatively new phenomenon, but the concept of an entertainment product that's exclusive to one platform is not. The video-game industry has operated this way for decades. It was a coup, for instance, when Final Fantasy jumped from Nintendo's console to PlayStation in 1997. Metal Gear Solid V was the first game in the hugely popular series to be released on multiple platforms simultaneously.
Video-game exclusives can be justified using a variety of reasons. Gamers are, after all, purchasing a specific box made by a single company that promises to be better than other such boxes. Often, video games are developed by first-party studios owned by the platform holder (e.g., you can only play Halo games on an Xbox, because Microsoft owns the intellectual property and at one time owned Bungie, the game's developer). Third-party developers can cite technical reasons: For Final Fantasy VII on the original PlayStation, the disc-based console offered more storage capacity than the anemic, cartridge-based Nintendo 64.
But as consoles have gained feature parity, exclusives have increasingly come down a straightforward battle for market power. For years, Microsoft shelled out a ton of money to make sure that downloadable add-ons for games like Call of Duty, Fallout 3, and Grand Theft Auto IV hit their platform first. They once paid $50 million to GTA's publisher to keep downloadable add-ons exclusive to the Xbox. The pitch to gamers was obvious: If you wanted the latest maps and levels, you'd do better to buy the game on one platform over another. Last year, Sony actually wrested control of Call of Duty exclusives away from their rival.
Microsoft and Sony's tug-of-war is a prime example of how exclusivity drives content economies, but Nintendo has approached things from a different angle. For years, the company has kept its popular characters siloed on its own systems, refusing to produce sure-fire hits like, for instance, mobile games. Mario and Link and Pikachu are properties informally referred to as "system sellers," gaming's equivalent of a killer app. But yesterday, Nintendo broke with tradition to announce a new Mario game for iOS. It's exclusive to Apple's platform.
The point of exclusives is to lock users into certain platforms — and, to the extent that Apple Music works most seamlessly on an iPhone, into certain devices. Only on PlayStation, only on Tidal, and so on. Lemonade is a Tidal exclusive because Tidal wants more subscribers. 1989 is an Apple exclusive for a similar reason. For the creators, it also provides a guaranteed form of compensation. But the reason why the current trend toward making everything exclusive sticks in consumers' craw is that it doesn't have to be this way — and video games aside, historically hasn't. DVDs work in any DVD player, turntables can belt out audio from any vinyl. That may no longer be the case.
Exclusives are turning into a form of brand-building, a curation that helps Apple appeal to a certain crowd. Mario for the aging millennials, Carpool Karaoke for their moms. A few years ago, the iPhone was a luxury brand whose physical incarnation immediately signalled a person of certain wealth and cachet. Now — just as being a Tidal user or being a PlayStation owner might — the Apple logo will come to signal a certain type of cultural taste as well.