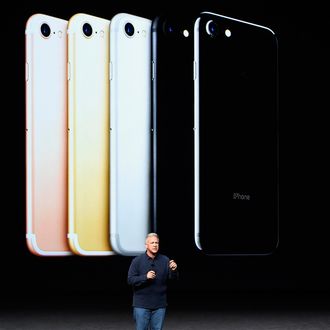 Photo: David Paul Morris/Bloomberg via Getty Images
Yesterday, Apple announced the iPhone 7. (Though thanks to an Amazon leak and some poorly planned tweets from Apple that ran just a little too early, there was very little we didn't already know about the new phone.) It's water-resistant. It doesn't have a headphone jack. It's got a 12-megapixel camera. It comes in a glossy finish called jet-black that you probably shouldn't buy since it'll smudge and scratch if you so much at look at it. Welcome to to the world, iPhone 7.
If you're planning on taking the leap and becoming the proud new owner of an iPhone 7, you have a few options as to what you can do with your old device. Option one: Save it forever in a drawer where the rest of your obsolete tech has been hanging out since 2007. Or option two: Resell your device. And if you're planning on selling, you probably shouldn't wait. According to data from electronics trade-in company NextWorth, the resale value of the iPhone 6 and iPhone 6S is about to dramatically decrease. (Note: The data and projections in the following graph are for the iPhone 5, iPhone 5S, and iPhone 6 over six months in 2016.)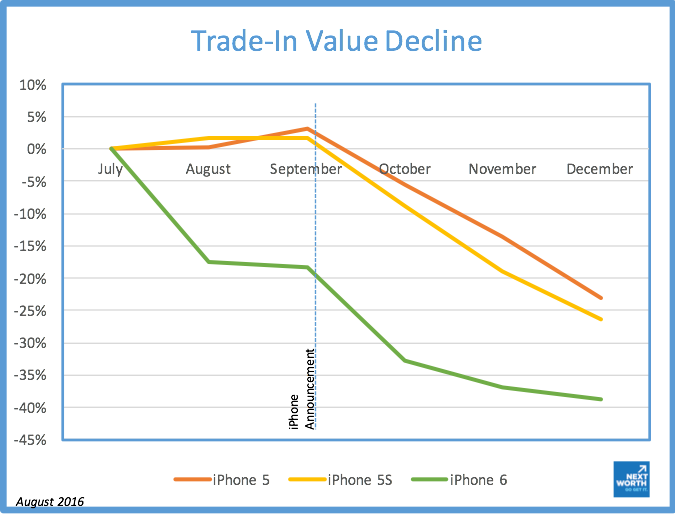 "The trade-in value drops for the iPhone 6 and the iPhone 6S are going to be very similar," Brendan McCue, NextWorth's in-house gadget analyst told me. "We're expecting a drop that lines up pretty similarly to what we've seen in the past with the introduction of a new generation of phones." McCue expects his business will see a major influx in people sending in iPhone 6 and 6S's in the coming days and weeks, meaning by October resale value will have dropped an estimated 33 percent. The devices have already seen around a 20 percent drop in the two months leading up to the iPhone 7 announcement. (Since the iPhone 5 and iPhone 5S are already more dated models, and thus less valuable, these two phones have not decreased significantly in value during the lead-up to the iPhone 7 and will see only a gradual decline in value in the coming months.)
"The headphone-jack change is also going to be a huge thing for people," McCue said. "With major form-factor design change, we might even see [resale value] drops that are bigger than anticipated." As for a timeline, McCue says if you're thinking about making the switch, you shouldn't hold off on selling. "We expect to see a drop in October and then a drop again November, with the bigger drop happening in October," he explained, noting that by the late fall, the secondary market will have seen an influx in iPhone 6 and iPhone 6S's, which of course, makes them less valuable.
Moral of the story: If you're going to sell your old iPhone, the sooner you do it, the more money you'll make. Which is good, since you're going to need some extra cash to replace your AirPods when you inevitably lose them.