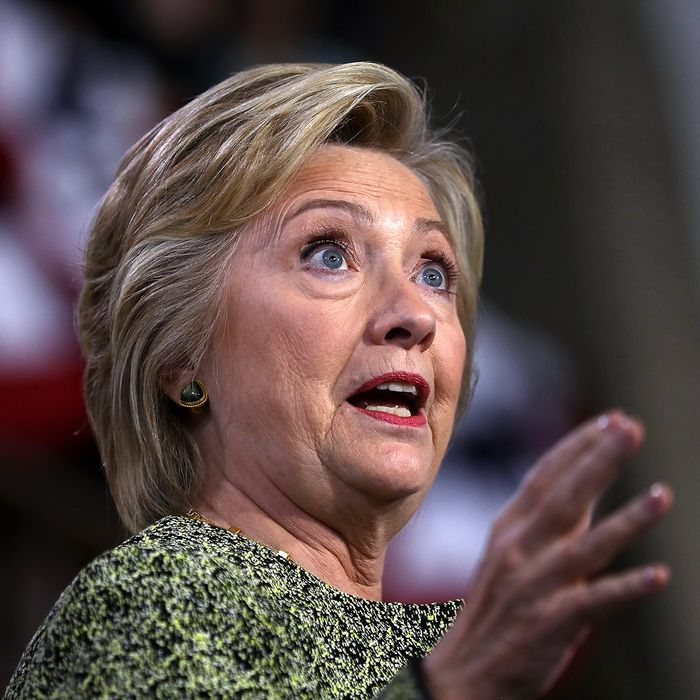 She has a paper or a plan for everything. But does anybody really care?
Photo: Justin Sullivan/Getty Images
In one of the sad ironies of this strange campaign cycle, widespread pleas for Hillary Clinton to explain what she would do as president have coincided with the appearance of an article documenting the extraordinarily elaborate and detailed policy apparatus and agenda she has in fact assembled.
Veteran policy wonk Jonathan Cohn took a deeply informed look at what Clinton has done to lay out an agenda she would pursue as president, and found it to be comprehensive and progressive:
Clinton's policy operation has churned out more than 60 papers outlining plans for everything from housing for people with serious mental illness to adjusting the cap on loans from the Small Business Administration. The agenda includes extremely big items, like a promise to ensure no family pays more than 10 percent of income on child care, and extremely small ones, like investing in smartphone applications that would make it easier for military families living in remote locations to receive services available only on bases.
Some of these ideas are more fleshed-out than others. The childcare plan, for example, is missing crucial details, like a price tag. And because the multitude of initiatives doesn't cohere under a galvanizing theme, the whole of the agenda can seem like less than the sum of its many, many parts. Even so, Clinton's plans are as unambiguously progressive as any from a Democratic nominee in modern history—and almost nobody seems to have noticed.
And that's the rub: In a competition dominated first by Bernie Sanders's plans for a "political revolution" and then by the broad and largely anti-intellectual thematics of Donald Trump's campaign, Clinton's characteristic wonkery has been overshadowed and then ignored.
As Cohn indicates, some of the problem could be the forest-and-trees issue: The very heft and detail of Clinton's policy offerings have undermined her ability to convey a broad and clear message. But the idea that she has nothing positive to say to complement her attacks on Trump is simply and almost laughably wrong.
Aside from the dynamics of the campaign, though, the other big question Cohn addresses is the relevance of Clinton's policy agenda to the realities she will face if she is elected president. She will very likely face a Republican-controlled House (and possibly a Republican-controlled Senate) that will not be any more interested in helping her rack up accomplishments than they were when Barack Obama was reaching out to them in the name of an increasingly anachronistic bipartisanship. And to the extent she does try to work with Republicans, she and her administration will have to deal with a revived and vigilant progressive wing of the Democratic Party alert to any signs of a centrist sellout.
The people in Clinton's close orbit understand all this. They know that their boss has been preparing herself for this job for much of her adult life. They are confident that she will achieve progress in the White House by drawing on the qualities they admire about her the most: her belief in the potential of public policy to change lives, her tenacity. And they believe that advancing her agenda piece by hard-fought piece, laying the foundation for bigger legislation at some future point when the politics permit it, is a deeply meaningful accomplishment.
"When the politics permit it" is a pretty important proviso for Clinton's ability to win policy achievements. The intra-party tensions that represent one horn of the dilemma on which she might founder are actually growing less severe; one of the important phenomena Cohn explains is the recent movement of centrist economic thinkers toward positions once thought to be left-wing (misunderstood by conservatives and mainstream journalists as a purely political rather than intellectual development). But the vast gulf between the two parties has not shrunk at all, and a post-Trump GOP trying to rebuild itself is very likely to make total obstruction to a Clinton administration its unifying touchstone.
So, all in all, there is a tragic dimension to the story Jonathan Cohn tells: The wonkiest presidential campaign ever could find itself at sea in both this savage general election and in post-election Washington. But it has no choice but to move forward as though each policy paper or position statement matters as much as it should.