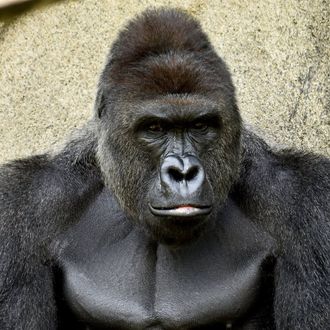 Photo: Cincinnati Zoo & Botanical Garden/Facebook
Earlier today, Pottermore, J.K. Rowling's ever-churning digital Harry Potter content mine, released a quiz that assigns you a patronus (a spell that takes the form of a spirit animal and keeps dementors from sucking your soul). It's fun. Rowling's patronus is a heron, which she seems pretty pleased with. (And anything is better than being assigned a dolphin, which everyone knows is the lamest of the patronuses.)
Since releasing the quiz, Twitter users, like Rowling, have been sharing their results online. Which means it was only a matter of time before the memes began. Humor website the Chive even created a Photoshopped version of the quiz assigning themselves a Harambe patronus, which Rowling retweeted.
But shortly after, Rowling followed up with a few tweets of her own to clear up some fan confusion and explain that Harambe isn't a real patronus you can get on the Pottermore website. ("Real" here being a loosely used term.)
Wands out for Harambe, everyone.