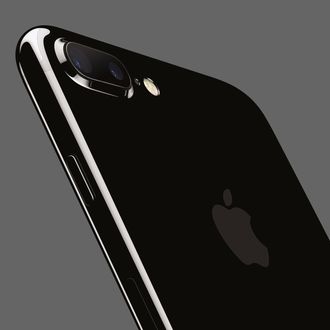 Last night, preorders opened up for the new iPhone 7. Which means people around the world stayed up into the wee hours of the morning refreshing webpages, hoping to be one of the first people to get their hands on a piece of that sweet, sweet headphone-jack-less, water-resistant Apple tech. And despite the fact that the new matte-black option is far superior, the jet-black model seems to be the most-wanted iPhone in the bunch. (I know it looks all shiny and beautiful now, you guys, but imagine it after a day in your back pocket or covered in dirty fingerprints. Ew.)
On Twitter, people noted that both the iPhone 7 and iPhone 7 Plus in jet black seemed to sell out in minutes.
If you still have your heart set on purchasing one of those shiny-black iPhones (even though matte is clearly the better choice), don't worry. The phones aren't actually sold out in the you are never, ever getting one of these sense. They're just shipping at a later date than their more basic (read: rose gold) counterparts. While the iPhone 7's original shipping date (September 16) still holds for some preorders, if you try to preorder from Apple now, you'll likely see a wait time of two to three weeks. (About a week or so after the original shipping date.) That is, unless you're buying a jet-black model, in which case, the estimated shipping date is somewhere between three to four weeks and "November," depending on whether you're buying the iPhone 7 or the iPhone 7 Plus, respectively. Which just means you'll have a few more weeks to cherish your headphone jack before it is gone forever.