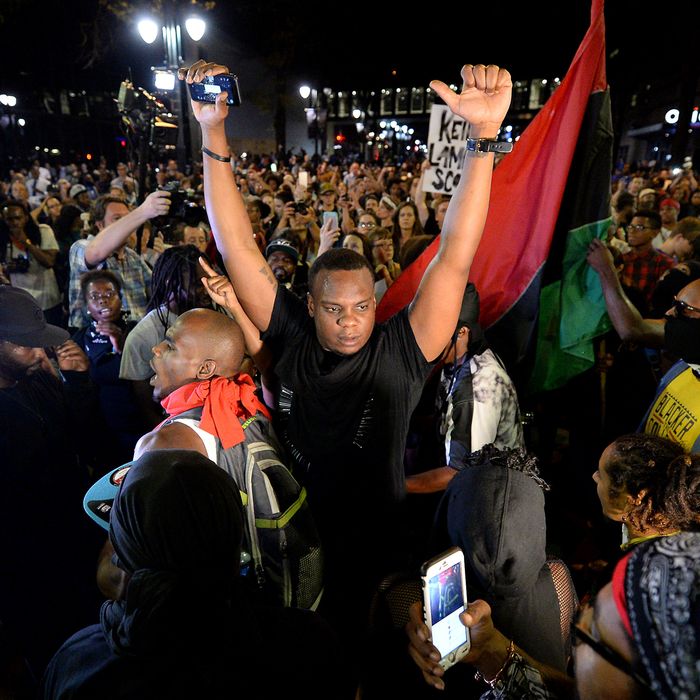 Protests in Charlotte have now lasted into their third day.
Photo: Jeff Siner/TNS via Getty Images
Activists and protesters have been calling for the release of the video showing the killing of Keith Scott since the 43-year-old black man was shot by police in Charlotte, North Carolina, on Tuesday. Those calls grew even louder on Thursday after Scott's family was shown two videos of the incident, and said they should be made public immediately.

Instead of bringing clarity or consensus over what actually happened, the footage left both sides more entrenched in their version of events.
The family, including Scott's wife, was shown footage from two angles: one from a dashboard camera and another from a body camera. Justin Bamberg, a lawyer speaking on behalf of the family, described the viewing as "incredibly difficult" and said it left the family with "more questions than answers."

The family claims the footage proves Scott had not been behaving in an aggressive manner and was obeying police commands. According to Bramberg the videos show that "when told by police to exit his vehicle, Mr. Scott did so in a very calm, nonaggressive manner. While police did give him several commands, he did not aggressively approach them or raise his hands at members of law enforcement at any time." Even when Scott was shot, his "hands were by his side, and he was slowly walking backwards."
After watching the same footage, Charlotte-Mecklenburg police chief Kerr Putney had a different take entirely. He said the footage is consistent with the officers' claim that Scott was shot after he exited his car brandishing a gun. However, he did agree with the family on one point: It's unclear from the videos if Scott was holding a gun or a book, as some protesters claim.

"The video does not give me absolute, definitive visual evidence that would confirm that a person is pointing a gun," Putney said.

He said he still has no plans to release the videos, explaining, "we release it when we believe there is a compelling reason."
On Thursday the New York Times increased the pressure on Putney with an op-ed saying the public should be allowed to view the footage.
The Times' editorial board accuses the Charlotte Police Department of responding to the shooting "in exactly the wrong way," saying that it had "opted for stonewalling."
As the op-ed points out, North Carolina passed a measure earlier in the year that gives police departments the authority to refrain from releasing footage in these situations unless they receive a court order. However, that law does not go into effect until October 1.
The Times also takes a dim view of the city's mayor, Jennifer Roberts, describing her as "largely at sea and distressingly out of touch with how lack of an open governmental response led to demonstrations in places like Ferguson, Missouri, Cleveland, and Baltimore."
When the op-ed was released Mayor Roberts had not yet seen the tapes. Speaking later in the day to CNN's Anderson Cooper, Roberts said that she had seen footage. "It is not a very clear picture, and the gun in question is a small gun and it was not easy to see with the way the motion was happening," she said, adding that she is leaning toward releasing the videos, but must be mindful of the ongoing investigation.