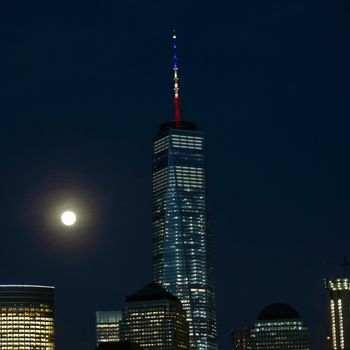 The scene of the soiree.
Photo: Trevor Collens/AFP/Getty Images
Last night, the panoramic World Trade Center observatory was packed with media luminaries toasting Slate's 20th anniversary. The turnout of top editors for white wine, passed sliders, and schmoozing — with a few story pitches snuck in — was a testament to Slate's lasting influence on the industry. Founded in 1996 by former New Republic editor Michael Kinsley, Slate was one of the first digital-only publications, known for its podcasts, verticals before they were called verticals, and argument-driven — and often playfully counterintuitive — stories that helped to shape the direction of online commentary.
Daily Intelligencer took the opportunity to pick the brains of the powerful partygoers. We asked a skittish Nick Denton what he's up to (brainstorming a book, naturally), learned David Remnick is a fan of Between Two Ferns, and discovered Salman Rushdie's love is that fickle, especially for Twitter. We polled the room on media-related anxiety levels. Some were pretty freaked out about the industry, the career prospects in digital media, and whether anyone can ever make a profit off enterprise journalism anymore. Others think things are better than ever. And, if it's any solace, Malcolm Gladwell's not worried.
Nick Denton, Gawker founder
What are you going to do?
I have been part of an interesting story, and I can originally write it.
Are you going to write it?
We'll see.
Which media company is going to get bought next?
People were gossiping about a Disney-Vice transaction. They have been gossiping about that for a while, but it hasn't happened yet. That would be interesting — a wholesome Vice would be a very interesting proposition.
David Remnick, editor-in-chief of
The New Yorker
Do you miss Gawker?
I think it is awful to have this guy try to sue everyone into submission. I miss the best of Gawker. I don't think it is theoretical. You saw that suddenly Gabe Sherman was being surrounded. It is legal, but it is awful. It is not going to stop anyone from publishing what they should publish.
Will anyone read stories in five years?
People will read. I think people are hungry, for depth and language and thought, and sometimes it is entirely possible that can't be expressed in a 20-second video. I have nothing against a 20-second video. Today I watched Hillary Clinton navigate her way through Zach Galifianakis. It has value. So does Moby-Dick.
Julia Turner, editor-in-chief of Slate
Do you miss Gawker?
Not as a daily read, but I miss its weird ambition. I think we are a poorer place for it not being in the world.
How scared are you of Facebook?
Anyone whose media strategy depends on Facebook has made a grave mistake. Ours does not, so not very.
What is your VR strategy?
I have to say I'm kind of skeptical about VR for journalism. It has been cool to see people experimenting with new technologies, and we have another experiment cooking that we'll be launching over the next year, but the thing that is weird about it is you can't guide a person through the experience, and that is the job of the journalist. So it seems great for gaming and less good for storytelling.
What is your nightmare scenario for the industry?
Well, I think a lot of people have bought into a scenario that there will only be video in the future, but I don't think that is true.
Best-case scenario?
I kind of think we are living in it. Obviously, it is fraught times, for digital journalism and journalism broadly. But look at this campaign — there are so many outlets doing really interesting, ambitious work.
Ben Smith, editor-in-chief of BuzzFeed
What digital brand do you find yourself consuming more than you thought you would?
Snapchat. I talk to my kids on it, and I like their stories. I think their election stuff has been great, and better than anyone expected.
Is there something faster than the 24/7 news cycle?
I guess the 24-hour news cycle, we are talking about the '80s and '90s and the birth of CNN. It does feel like the news cycle now is much denser than its predecessor. This is actually something I think about. The challenge now is not just to tell your readers what's happening in the world but to help them navigate that whole information environment that is so dense.
How do you do that?
You have to assume that your audience is consuming everything, and tell them what is true and what is not true.
Salman Rushdie, author
Which media company do you consume more than you thought you would? Snapchat?
I have no idea how Snapchat works. Facebook yes. I have abandoned Twitter. I had 1.2 million people on Twitter, and about two months ago I woke up in the morning and thought, I don't want to do this. I just don't want to do this. I stopped, I deleted the app from my phone, and I have not missed it for a millisecond.
Why did you do that?
I have come around to the Franzen position that it is a noise you don't want in your head. I think Twitter is very well-named. It is this twittering noise in your ear, and I just thought I don't need that noise. I tried it, I did it for three or four years, and I quite enjoyed it, and then it is like falling out of love. You wake up one day and you look at the person lying next to you, and you think, I'm not in love anymore. That's what happened to me with the little blue bird.

Deborah Needleman, editor-in-chief of
T Magazine
What digital media company do you find yourself consuming more than you thought you would?
Audible, all day long, and podcasts all day long, but I don't think that really counts as digital media. I feel like, for me, media is digital, but I'm not that interested in digital media companies.
Will people read articles in five years, or will everything go straight to Facebook video?
This whole thing about people not reading is ridiculous. I think digital makes people read more. But also, people are reading super-long stuff; I'm reading, this sounds super-pretentious, on my iPhone, Anna Karenina. It doesn't matter.
How worried are you about Facebook?
I haven't been on Facebook in, like, seven years. I feel like someone could do an experiment. I don't know. I forgot my password, like, seven years ago, maybe I have been dropped.
Do you feel better?
All social media makes me miserable. I'm already addicted to Instagram, which makes me incredibly unhappy.
Malcolm Gladwell, staff writer at
The New Yorker
What do you think digital media companies will look like in 20 years?
No idea.
Do you worry about journalists being able to survive?
No. More people are reading than ever, somebody is going to write the things they read, and I'm optimistic they'll figure out the business model.
Bruce Headlam, former New York
Times
media editor
What will digital media companies look like in 20 years?
I think there will be fewer of them, and I don't think they will be substantially bigger. I think it is a little bit of a … bubble is the wrong word, but I don't think in the long run a lot of their plans are sustainable. I don't think online traffic, which continues to decline in value, is ever going to be able to support a lot of big players. I'm the drag at the party.
Who is the next media company to be bought out?
I couldn't even guess. It is a tough, tough business, and it depends on endless inflows of 25-year-old talent who don't want to be paid very much, and at some point, I don't know that the economics are going to work. Online traffic keeps declining in value, so you get more, but it keeps meaning less.
Jessica Grose, editor-in-chief of Lenny
What is your worst-case scenario for the digital media industry?
That the bottom will completely fall out of advertising. I want to see more enterprise journalism being funded, and I want to see more deep reporting being done, and as it is harder to pay for it, it is going to be increasingly harder to do.
What's your best-case scenario?
My best-case scenario is that new funding strategies come to light so everyone is not so dependent on advertising to make a go of it, because that is obviously the problem going forward. There are tons of really smart people who are doing good work, and the problem is paying them.
Will anyone be reading articles in five years?
Yes. People still want to read. We have been hearing for years that video is the next thing, and I do think there will be advances in video, but people are mostly reading while they are at work. You can't watch videos while you are at work.
Brian Stelter, senior media correspondent for CNN
Do you miss Gawker?
I have not missed Gawker yet, but I know I will. So far, most of Gawker is on Gizmodo, at least that is my perception, but I know there will be a point in the not-too-distant future where I will miss the site, and all eyes are on [Univision CEO Raju Narisetti] now.
Are written stories destined to become a niche market?
Oh god, no. As long as we all have eyeballs, we are going to want to read and watch. I'm pro-word. What did Felix Salmon say — "We are post-text"? We will never be post-text.
Michael Kinsley, Slate founder
Are you ever surprised by which digital media properties you go to?
I was impressed, I would say, by HuffPo, really impressed, and I really admire Arianna Huffington. I suppose that is a bit of a surprise. I still read mostly the legacy publications.
Eliot Spitzer, former governor of New York
Do you miss Gawker?
No, but missing them isn't the issue. Should outlets like that exist? Maybe yes, maybe no. But you don't have to miss them to recognize they have the right to exist.
Jacob Weisberg, chairman and editor-in-chief of the Slate Group
Which digital brand do you find yourself consuming more than you thought you would?
Probably Vox. I listen to their podcasts. The Weeds is really great; Ezra Klein's show is really great. They are kind of an affinity brand for us. We are interested in a lot of the same things. I think there have always been some digital media companies that we really learn from. At the moment, I learn a lot from BuzzFeed and a lot from Vox. They are not the only ones, by any means, but it is a very collegiate business in that when we see other people doing smart things, there is still a sense that we are all rooting for high-quality content on the internet.
What digital media companies will exist in 20 years?
I think only digital media companies will be around in 20 years. If you are not digital in 20 years, you are not going to exist.
How scared are you of Facebook?
I'm concerned about Facebook. I think they have to take seriously their role as a gatekeeper for billions of people in news consumption, and I don't think they have any hostility to editorial content. But I don't think they fully appreciate how important it is to their existence and their success. I think they have to figure out a way to support the content that is going to keep people coming back to Facebook. Baby photos won't do it on their own.