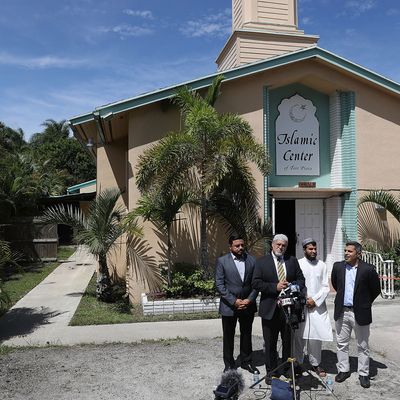 The Islamic Center of Fort Pierce.
Photo: Joe Raedle/Getty Images
Police have arrested the man allegedly responsible for setting fire to the mosque where Omar Mateen, the Pulse nightclub shooter, sometimes worshipped.
The St. Lucie County Sheriff's Department announced on Wednesday that officers had apprehended 32-year-old Joseph Michael Schreiber. Schreiber is believed to be the man caught on surveillance cameras setting a fire at the Islamic Center of Fort Pierce on Monday.
Schreiber was apprehended following an investigation by the sheriff's department and the F.B.I., working with the surveillance footage and tips from community members.
He has been charged with arson and is being held without bail.
The arson coincided with both the 15th anniversary of 9/11, and the Muslim holy day of Eid al-Adha. While nobody was injured, the fire did cause considerable damage to the center.
Schreiber was already known to law enforcement. His criminal record showed multiple thefts, and over the course of the investigation police found that he had written anti-Islamic posts online.
That the arsonist was motivated by Islamophobia certainly won't come as a surprise to anyone at the mosque. Ever since it emerged that Mateen sometimes attended the center, incidents of hate-speech and harassment — including multiple threats — have become disturbingly commonplace.
In fact, they were so frequent that during a visit after the shooting, a Washington Post reporter said that passing drivers routinely shouted abuse at the mosque.
At one point the center was even surrounded by a group of motorcyclists who menaced members; the suspected arsonist was also caught on camera riding a motorcycle around the property. In another incident a mosquegoer was beaten in the parking lot after observing dawn prayers.
Speaking after the fire on Monday, Ibrahim Hooper, the national spokesman for the Council on American-Islamic Relations said, "Unfortunately, within the past year, we've seen an unprecedented rise in bigotry in our society. It's becoming a great concern to the American Muslim community."