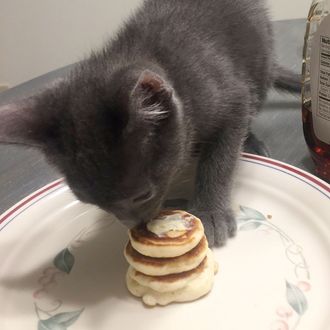 Photo: ChaserStout/Twitter
Chase Stout and his girlfriend, Kenzie Jones, adopted a gray kitten named Mr. Wilson earlier this fall. Here's what we know about the creature, according to Stout: He weighs in at a "hefty 1.9 pounds," his best friend is a German shepherd (yes, really), and Mr. Wilson enjoys a nice stack of pancakes.
This week, Jones went out of town, leaving Stout alone with Mr. Wilson for the first time. Before she left, Jones reminded Stout to feed the cat. So he did. He fed him tiny, kitten-sized pancakes. (Stout would like to make it clear that while his adult-sized cakes contained chocolate chips, he did not put any in the kitten's breakfast.)
"I love breakfast and love to cook, so while I was making myself some pancakes I decided I would make him some too so he could eat his own with me at the table while I ate mine," Stout explained via Twitter DM. He says Mr. Wilson appears to enjoy his cooking, "but just like any other kitten, he lost his attention span before really eating too much." "I wasn't going to let him eat them all anyways, because I didn't want him to get sick," he added.
Stout, who is a business student at Iowa State University, is the second person to go viral this year for whipping up a miniature breakfast for a pet. In August, a teenager from Iowa cooked dozens of similarly Lilliputian pancakes for her chickens. (Stout says he had no idea about the chicken-pancake teen. "Wait what?! For chickens! Haha no! Where at?") Her reasoning: because "they is good chickens."