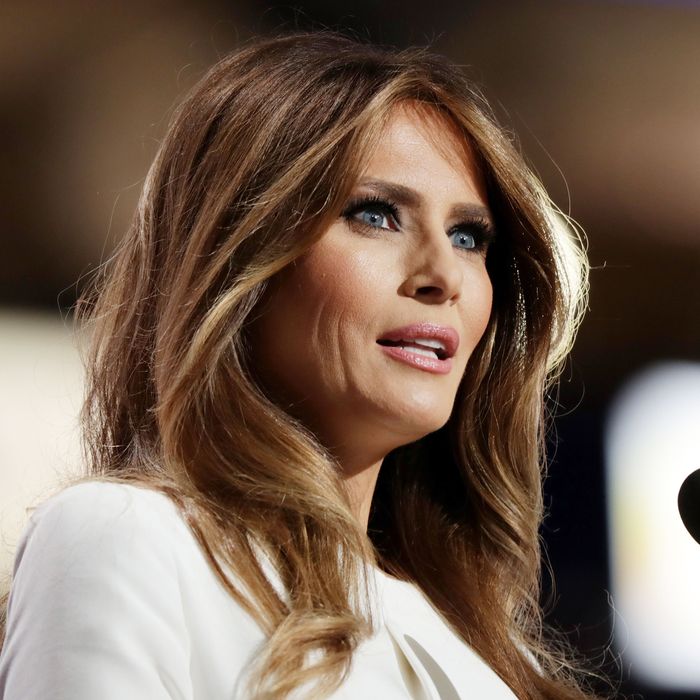 Melania Trump.
Photo: Chip Somodevilla/Getty Images
Melania Trump, the wife of presidential hopeful Donald Trump, filed an anti-defamation suit Thursday against Mail Media, the parent company of The Daily Mail. She also sued Webster Griffin Tarpley, a Maryland-based blogger.
According to her lawyers, the "defendants' actions are so egregious, malicious and harmful to Mrs. Trump that her damages are estimated at $150 million."
At issue in the first suit is a story that ran in the Daily Mail on August 19 with the extremely Daily Mail headline "Naked photoshoots, and troubling questions about visas that won't go away: The VERY racy past of Donald Trump's Slovenian wife."
Significantly, the story mentioned reports in a Slovenian magazine that claimed the modeling agency where Melania worked upon coming to the United States was also an escort agency placing models with wealthy clients.
In the case of Mr. Tarpley, the suit says that he wrote "false and defamatory statements" on his blog, including that Melania had suffered a nervous breakdown and that she was "obsessed by fear of salacious revelations by wealthy clients from her time as a high-end escort."
You can't say they weren't warned. More than a week ago, Trump's attorneys sent notice to a group of news outlets telling them to take the offending stories down, and publish an apology as well as a retraction or face legal action. And the Daily Mail did eventually take the story down — last night, after the suit had already been filed.
Perhaps they became nervous when they saw who Melania's lawyer was.
Mrs. Trump's attorney is Charles Harder, the same attorney who recently represented Hulk Hogan in his successful $140 million lawsuit against Gawker Media, which forced the company into bankruptcy and permanently shuttered its eponymous website.

Who knew the Trumps were so litigious?