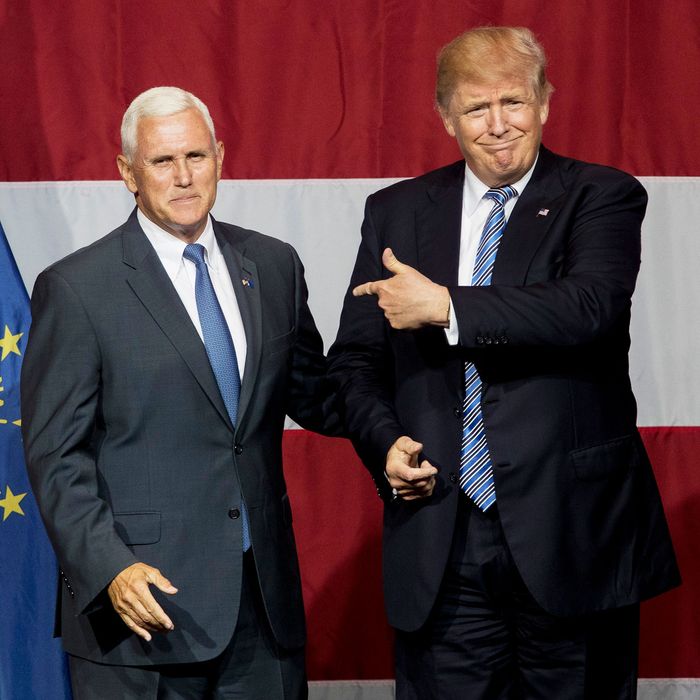 This guy.
Photo: Aaron P. Bernstein/Getty Images
In a stunning break with his own running mate, Republican vice-presidential candidate Mike Pence expressed the controversial view Wednesday that Barack Obama is not secretly a native of Kenya, who forged multiple birth certificates — and paid off a series of false witnesses — to convince the world that he was actually born on American soil. Rather, Pence believes that Obama was genuinely born in Hawaii, and thus has a legitimate claim to the American presidency.
"Well, I believe Barack Obama was born in Hawaii, I accept his birthplace," the Indiana governor told reporters aboard his campaign plane. "I just don't know where he's coming from on foreign policy and on economics and on Obamacare."
Pence's idiosyncratic stance puts him at odds with a majority of his own party's voters, who believe that we still lack conclusive evidence about the circumstances surrounding Obama's birth.
Donald Trump's climb to the summit of conservative politics began with his leadership of the "birther" movement in 2011, and he has yet to disavow the suspicions he raised at that time. Pence declined to say whether he believes Trump owes the president an apology.