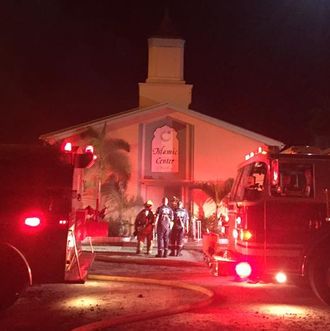 Photo: St. Lucie County Sheriff's Office
The Florida mosque occasionally attended by Omar Mateen, the man who killed 49 people at Orlando's Pulse nightclub in June, was set on fire late Sunday night. No injuries were reported. Local authorities say they're treating the incident as a case of arson.
The blaze at the Islamic Center of Fort Pierce broke out at 12:30 a.m. on Monday, burning at least a quarter of the building before firefighters arrived. No injuries were reported. "Evidence has revealed that this fire was set intentionally," Major David Thompson of the St. Lucie Sheriff's Department told the Sun-Sentinel. According to the police, surveillance video shows a person approaching the mosque just before "a flash occurred and the individual fled the area." A department spokesperson said that while "[i]t has been widely publicized that [Mateen] did attend here at one time … [w]e do not want to speculate" as to attacker's motive. The fire coincided with the three-month anniversary of the Pulse shooting, the 15th anniversary of September 11, and the beginning of the Muslim holiday Eid al-Adha, giving the perpetrator plenty of terrible, bigoted reasons from which to choose.