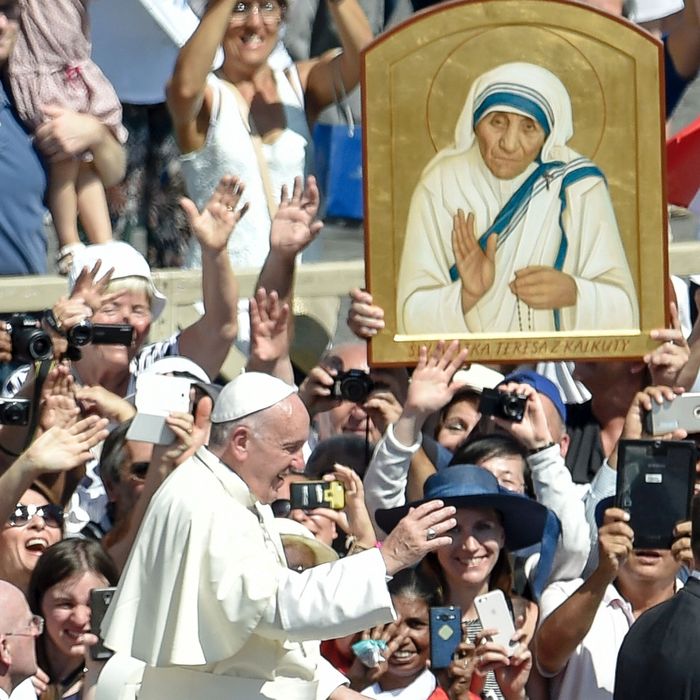 Pope Francis greeting pilgrims at the Vatican on Sunday.
Photo: Andreas Solaro/AFP/Getty Images
Pope Francis canonized Mother Teresa on Sunday morning before tens of thousands of pilgrims in St. Peter's Square at the Vatican, making the "saint of the gutters" — arguably the most famous charity worker of her lifetime — a bona fide Catholic saint just 19 years after her death. The 1979 Nobel Peace Prize winner was renowned around the world for her work with the poor and sick, particularly in the slums of Kolkata, India, where she established a hospice and home for abandoned children in the late 1940s. The New York Times reports that Pope Francis, in his proclamation, called Mother Teresa a "tireless worker of mercy" who had used her fame to make world leaders "recognize their guilt for the crime of poverty they created," and he said he hoped she would be a "model of holiness" to all the world's volunteers.
Missionaries of Charity, the religious order that Mother Teresa started in 1950, now has more than 5,800 members across 139 countries, and is no longer limited to nuns, but has two orders of brothers and one order of priests. Two so-called miraculous cures have been attributed to Mother Teresa's intercession since her death in 1997, and were prerequisites for her canonization.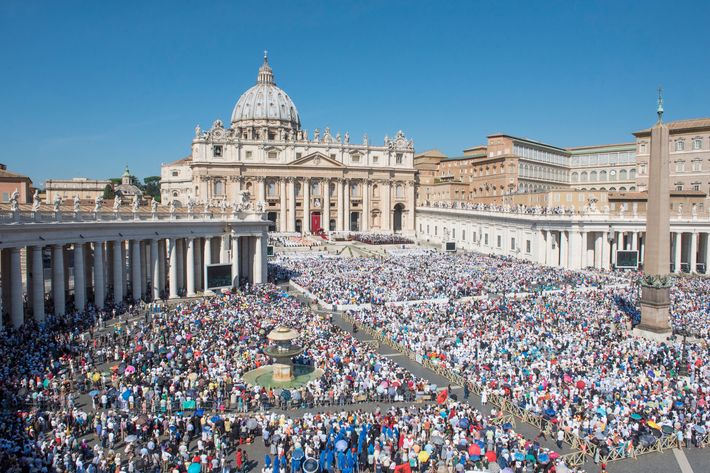 Mother Teresa's life and work was not devoid of controversy, however, with the majority of criticism focused on the idea that the public's perception of her was not accurate, and her good works were overrated. As The Guardian points out, two of her chief critics, former Kolkata doctor Aroup Chatterjee and the late Christopher Hitchens, have argued that she was a fraud, noting that the medical care her order gave the sick and poor was negligible and likely did harm due to poor medical practices and hygiene in their facilities, and that she perpetrated a kind of cult for the celebration of poverty and suffering, all while jet-setting about the world like a celebrity. In addition, that Mother Teresa used her fame to wage a very public campaign against abortion and birth control drew criticism from feminists and aid organizations.
But also in The Guardian, Mari Marcel Thekaekara, who once volunteered in the Missionaries of Charity when she was a teenager and came to know and loathe Mother Teresa, writes that she eventually came to respect the woman, since she and her order at least walked the walk when no one else would:
I am not particularly enamoured of sainthood. Or of Mother Teresa personally. But seeing her through the eyes of the man on the Kolkata street makes me pause. What would happen to these people if it weren't for the Teresas of this world reaching out to them in ways I certainly couldn't. Surely to them Mother Teresa must be a saint? Her home for the dying was Kolkata's first hospice.

Maybe the question our society should ask is, "Why do we still have a world where Mother Teresa is needed?" In answer to this, an Indian prayer floats through my mind. "Where the mind is without fear and the head is held high, into that heaven of freedom my father, let my country awake." These are not Mother Teresa's words but those of India's most illustrious poet, Rabindranath Tagore. Saint Teresa imagined that such a world was possible.