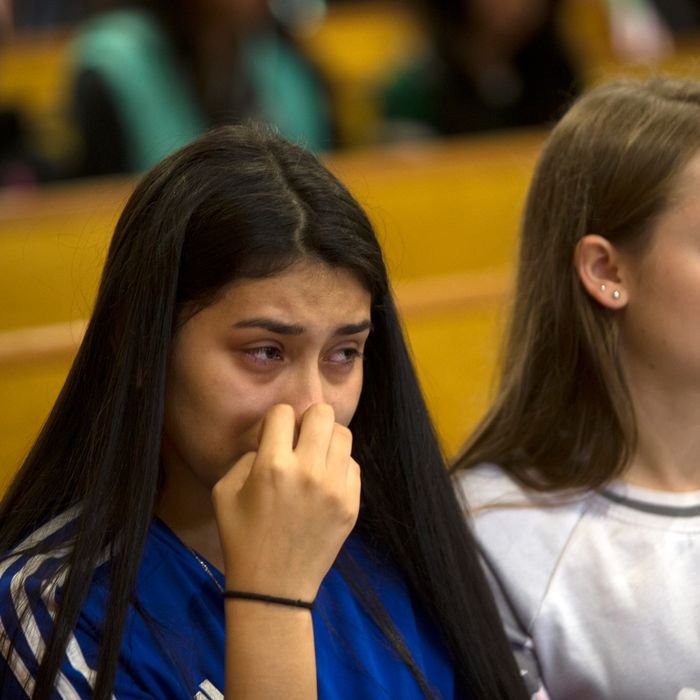 Two girls mourn the death of five people in a shooting on Friday.
Photo: Karen Ducey/Getty Images
Arcan Cetin, 20, the only suspect being held in connection with the deadly mall shooting in Washington State last week, will be arraigned on Monday. He faces five counts of first-degree murder.
Police say they are confident that Cetin is the shooter, but are not yet sure if he acted alone.
A man fitting Cetin's description opened fire with a rifle at the Macy's cosmetics counter in the Cascade Mall in Burlington, Washington, on Friday evening, killing five people before escaping.
After a 24-hour-long manhunt gripped the area, police took Cetin into custody on Saturday night. He was apprehended walking down the street near his home in Oak Harbor on Whidbey Island, 50 miles north of Seattle.
Officers described Cetin as "zombie-like" when he was taken into custody.

Police are still trying to determine a motive in the shooting. Cetin, who was born in Turkey and became a legal permanent resident of the United States, had a previous arrest in the last year for assault and court records show that he had faced three other domestic-assault charges involving his stepfather.
Following those charges, a judge told Cetin that he wasn't allowed to possess a firearm. Police believe he stole the rifle used in the shooting from a relative.
While Cetin had an ex-girlfriend who worked at Macy's, it is unclear if she worked at the Burlington location. Officials say they have so far been unable to find a connection between the shooter and any of the victims, who included a 16-year-old cancer survivor and a 95-year-old woman and her daughter.
The Wall Street Journal is reporting that Cetin already had something of a reputation in the small community where he lived. Bryce Diras, who went to high school with Cetin, told the paper that he "was big on guns," and "his reputation wasn't great."
Diras said Cetin "wasn't right in the head, and as much as it pains me to say it, I wouldn't have put something like this past him."
Police are still unsure if terrorism played a role in his killing-spree, but the Journal noted that on his Facebook page Cetin celebrated the death of Osama bin Laden. Cetin was a member of his high school's ROTC and worked as a bagger in the commissary of the naval base on Whidbey. It was other employees from the base who were able to identify him from the mall's surveillance footage.
Police have refused to speculate about Cetin's possible motives or mental health due to the ongoing investigation.