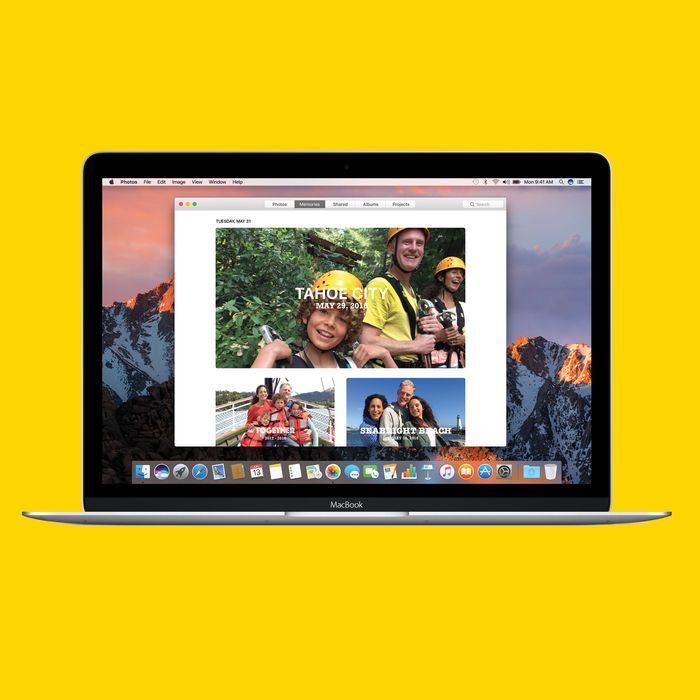 Last week, Apple introduced iOS 10 on mobile devices. (TL;DR: new emoji, new Apple Music, and new iMessage features you can use to annoy your friends.) Today, it's time for your Mac to get its own update; the company is releasing a new operating system, macOS Sierra, later today. (The nomenclature here is new, moving away from Apple's previous naming system, i.e., "OS X.") But what does "macOS" do … for you? Here are seven things you can look forward to.
Now, Apple's dulcet-toned personal assistant will be available on your Mac. Just like Siri on your phone, you'll be able to use her to give orders and ask important questions. (Siri, why does everyone I love leave me?) Siri will also be able to pull up files, play music on command, and there is a handy new feature that lets you save Siri's answers to your notification center so you don't have to keep asking the same question over and over when you inevitably forget what 1,984 divided by 12 is.
O

n

l

i

n

e

S

h

o

p

p

i

n

g

G

e

t

s

E

a

s

i

e

r
Apple Pay is now compatible with your Mac, but you'll also need to own an Apple Watch or an iPhone to use it. If that describes you, when shopping on websites that allow customers to check out with Apple Pay select the "Apple Pay" option. You'll see a notification for verification pop up on your Apple Watch or iPhone. Follow the instructions to complete your purchase without ever tracking down your credit card or trying to remember those three numbers from the back of it.
E

a

s

i

l

y

F

r

e

e

U

p

M

o

r

e

S

t

o

r

a

g

e

S

p

a

c

e
If y0u are running low on storage space (and are getting fed up with constantly snoozing the "Your startup disc is almost full" notification) this new feature should make things easier. Sierra comes with a built-in program to delete unnecessary items clogging up your computer and to move other items off your device and into the cloud.
Apple's latest update makes it easier to scan your photos for specific places and people with its new intelligent-search feature. Your Mac will now be able to analyze images, tag specific places, people, and landmarks, and turn them into auto-generated albums and even mini movies.
MacOS Sierra comes with a new picture-in-picture feature (you know, like the PIP button on your old TV remote) that lets you watch videos while you attempt to get actual work done on your Mac. The feature currently works with videos in both Safari (YouTube videos aren't supported yet) and iTunes, so just cue up what you want to watch, press play, and go. (The PIP player has limited controls, so if you want to rewind or fast-forward, you'll have to go back to the video's original platform.)
T

w

o

W

o

r

d

s

:

U

n

i

v

e

r

s

a

l

.

C

l

i

p

b

o

a

r

d

.
If you've got a Mac from 2012 or later and an iPhone running iOS 10, you're in business. Just copy text on one device and then you'll be able to paste it onto another. (Reminder: This only works for the most recent thing you've copied.)
Messages got a major facelift in iOS 10 and now you can get in on some of the fun with your Mac. While not all of the new features are supported, Sierra will show rich-text links, inline video, giant emoji messages, and a new tap-back feature which lets you respond to a message by, yes, tapping on preset options like a heart or a thumbs-up.