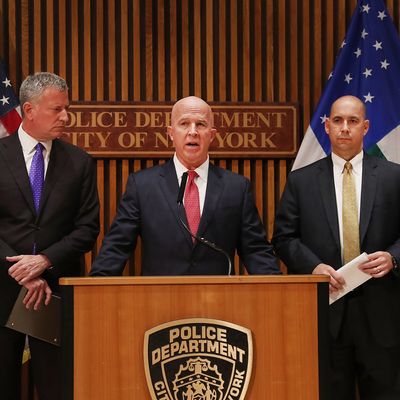 Welcome to the new gig.
Photo: Spencer Platt/Getty Images
The honeymoon period really did not last long for the new NYPD Commissioner James O'Neill. "Saturday morning I woke up, I'm the Police Commissioner of the city of New York," O'Neill said. "I come into the building and I move all my stuff from the 13th floor up to the 14th floor. I'm on the drive home and I get that phone call."
That call brought news of a Saturday-night explosion in Chelsea, which also happened to be O'Neill's first full day on the job after taking over for his predecessor Bill Bratton. On Monday, O'Neill was formally sworn in as commissioner at NYPD headquarters at 1 Police Plaza, just as cops were cornering bombing suspect Ahmad Rahami, who was arrested after a shoot-out with New Jersey police."It's a pretty tough way to start my new position as police commissioner," O'Neill understated at a press conference Monday. "But again, I've always been so proud to be a part of this agency, the New York City Police Department."
O'Neill, who got his start as a transit cop in the 1980s and worked his way up through the ranks, took over as chief of department in 2014. "The reason why people become cops was displayed that night," said O'Neill about the explosion during his swearing-in. "We all became cops, we all joined law enforcement to do good."
Mayor Bill de Blasio echoed those sentiments at the public ceremony, saying O'Neill had already shown that he was a leader, and "calm, cool, collected" under pressure. Officer Carlos Gomez, a 32-year veteran of the force, was also sworn in as the new chief of department — the first Latino cop to take over that role — during the ceremony.
Bratton did have to deal with a Midtown meat-cleaver attack on a fellow officer as he was wrapping up his law-enforcement career, but retirement (or at least the private sector) probably sounds pretty nice just about now.