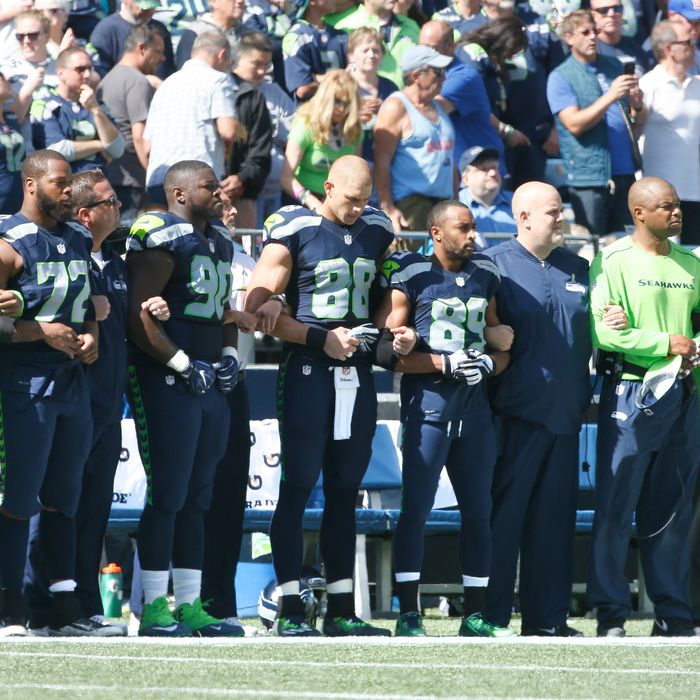 The Seahawks link arms.
Photo: Otto Greule Jr/Getty Images
National Football League officials were prepared for widespread protests on Sunday, as teams took the field for the season's first full day of play. Instead, in stadiums all over the country, the national anthem was observed by players and fans without much fuss.
A few players did follow the example of 49ers quarterback Colin Kaepernick, who sparked a national controversy when he took a knee during the anthem last month in protest of police brutality and racial injustice.
Kansas City Chiefs cornerback Marcus Peters, for example, raised his fist during the anthem, a pose reminiscent of the protest by black athletes Tommie Smith and John Carlos during the medal ceremony of the 1968 Summer Olympics in Mexico City.
And in the largest display of solidarity with Kaepernick, four members of the Miami Dolphins — Arian Foster, Jelani Jenkins, Michael Thomas, and Kenny Stills — took a knee for the duration of the national anthem.
While they were kneeling, the team they were about to play, the Seattle Seahawks, stood on the same field, their arms linked.
Other players, including members of the Chiefs, also linked their arms during the national anthem. At first it wasn't clear if the gesture was meant as a form of protest, but players have since described it as a show of unity and a way "to be respectful of everyone's opinions."
Protests at yesterday's games might have been muted because they fell on the 15th anniversary of the September 11 attacks, and football games were infused with even more overt patriotism than usual. Videos from both President Obama, and George W. Bush played before the games, and players wore commemorative 9/11 decals on their helmets.
Overall, the protest is growing, with more players taking part at every game. On Thursday, Denver Broncos linebacker Brandon Marshall knelt during the anthem.
Kaepernick did not take part in any games yesterday. The 49ers play their opening game against the Los Angeles Rams tonight.