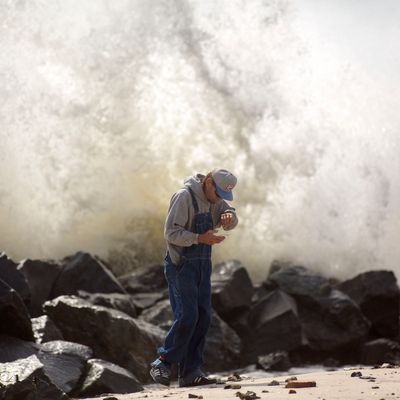 A beachgoer stands by as a big wave crashes in Atlantic City, New Jersey.
Photo: Jessica Kourkounis/Getty Images
The former-hurricane Hermine, now a post-tropical cyclone, has shifted far enough out to sea that it is not expected to make landfall in New York or anywhere else in the Northeast. It thus now appears that the region will be spared the majority of the storm's destructive forces, though forecasters warn that the risk to coastal areas — in the form big waves, dangerous currents, and life-threatening storm surges and coastal flooding — remains. That is particularly the case on the Jersey coastline and along the south shore and eastern bays of Long Island, and especially during high tides starting Sunday night. Up to 50-mph wind gusts may still hit eastern Long Island, southeast Connecticut, and Cape Cod in Massachusetts. Some coastal areas may see one to two inches of rain.
Regardless, tropical-storm watches and warnings remain in effect throughout the region: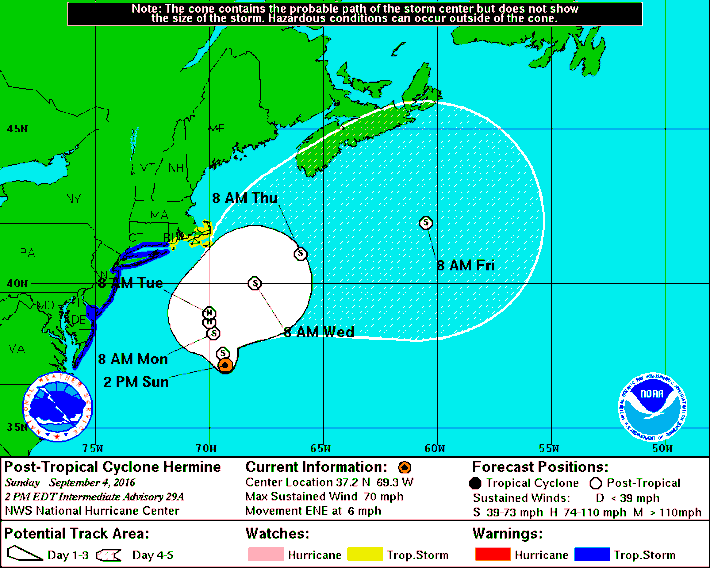 As of Sunday afternoon, the National Weather Service reports that the storm is about 340 miles southeast of New York City, and is traveling north-northeast at a speed of about 10 mph. The center of the storm is still expected to hover off the East Coast for a number of days, which means dangerous ocean conditions will continue too. Rhode Island and coastal Massachusetts may still see some bad weather from the storm as well, according to CNN.
Though Hermine has lost its tropical status, it was still packing up to 70-mph winds on Sunday, though entirely offshore. The storm is also expected to strengthen again before the end of the holiday weekend.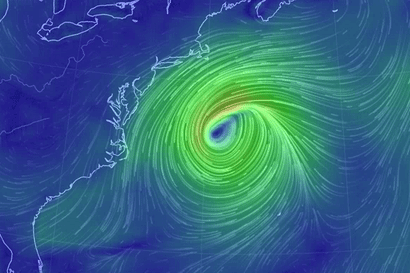 New York beaches are closed on Sunday, and the city is considering leaving them closed on Monday and Tuesday, due to the danger of strong currents, big surf, and storm surges. New York mayor Bill de Blasio has not yet canceled Labor Day festivals and parades in the city, however. Elsewhere, Fire Island remains under an order of voluntary evacuation until 6 p.m. Sunday. States of emergencies are also in effect in Suffolk County in New York, as well as along the Maryland coast and in the New Jersey counties of Ocean, Atlantic, and Cape May, where some coastal areas are still expected to see high-tide levels of almost four feet above normal. The Jersey coast can expect minor rainfall and wind gusts up to 40 mph through Monday.
But whatever Hermine's storm surges end up being, it's still a weird and ultimately troubling storm, as FiveThirtyEight's Eric Holthaus explained on Saturday:
Hermine really has no precedent, at least in the modern meteorological record of the North Atlantic. Hermine has transitioned from a hurricane to a hybrid, post-tropical cyclone and will likely re-strengthen back to hurricane – though it's unclear whether the National Hurricane Center will change the storm's designation again. The center notes that the interaction between Hermine's tropical core and its more nor'easter-like influence could result in short-term looping motions of the storm's center that are essentially unpredictable.

Even during peak hurricane season, hurricanes that pass north of the Delmarva Peninsula typically weaken because of cooler ocean waters that limit the growth of central thunderstorms. But not Hermine. This sort of storm arguably wouldn't be possible without the near-record high ocean temperatures currently offshore. Waters between North Carolina and New Jersey are warm enough to sustain a hurricane right now, about 3 to 6 degrees Fahrenheit warmer than normal. That means the region where Hermine will be camped out for most of this week likely wouldn't foster intensification in a normal, cooler year. Climate change is expected to make storms like Hermine even more common in the North Atlantic.

Along those lines, for a chilling read about just how unprepared the U.S. is for rising sea levels, be sure to check out the New York Times' new report on the subject.
This post has been updated to reflect more context about the influence of climate change on such storms.