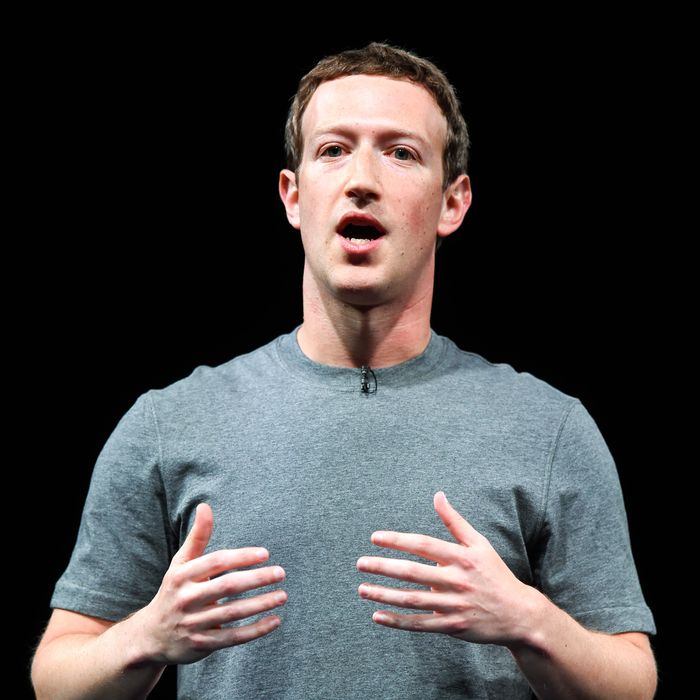 Photo: David Ramos/Getty Images
The editor-in-chief of Norway's Aftenposten has published a front-page letter to Facebook CEO Mark Zuckerberg, calling him out for the way in which Facebook handles graphic and controversial content. At the center of the issue is the famous "napalm girl" photo taken by Nick Ut during the Vietnam War.
The photo was used for documentary purposes, included in a post about the history of warfare. Facebook asked that it be removed, and after less than 24 hours, the site reportedly removed the photo itself.
Espen Egil Hansen, the paper's editor, writes:
Listen, Mark, this is serious. First you create rules that don't distinguish between child pornography and famous war photographs. Then you practice these rules without allowing space for good judgement. Finally you even censor criticism against and a discussion about the decision — and you punish the person who dares to voice criticism.
Hansen's full letter occupied the full front page of Aftenposten, the largest newspaper in Norway, today.
"Facebook's Mission Statement states that your objective is to 'make the world more open and connected,'" he writes. "In reality you are doing this in a totally superficial sense."
Facebook's role in the dissemination of news cannot be understated. For many of it's 1.65 billion users it is the front page of the internet (sorry, Reddit). Most major sites receive a significant chunk of readership via Facebook, and changes that Facebook makes to their software can cause a ripple effect that makes traffic fluctuate wildly.
The problem is that Facebook is entirely unwilling to take responsibility for this. As Hansen stated, Zuckerberg's idea of an open and connected world free to exchange ideas really only exists if those ideas are entirely unobjectionable. It's why, up until recently, Facebook's Trending Topics were summarized in a baffling, neutral voice (Facebook's was recently accused of "suppressing conservative news").
Asked during a trip to Rome about his company's enormous role in helping the spread of news, Zuckerberg said, "No, we are a tech company, not a media company." He added, "The world needs news companies, but also technology platforms, like what we do, and we take our role in this very seriously." Maybe part of taking the role seriously is understanding how much Facebook has upended the media economy and wrecked news organizations.
As we've said before, there is a considerable gulf between what Facebook thinks its tools are for, and how people actually put them to use. The most interesting, impactful footage on its live-video platform has come not from the mainstream sites and celebrities it is paying to use the service, but from spontaneous, visually arresting news events, like a coup in Turkey, or the death of Philando Castile.
Zuckerberg's notion of a connected world hinges on this odd, simplistic delusion that everyone should have to talk around the things that really matter. You can say that something bad happened, but God forbid a photo or video of it goes viral to drive the point home. Then it makes users uncomfortable.
That's the unfortunate truth hiding at the heart of Zuckerberg's ideal Facebook. He doesn't want people to be more informed, more motivated to enact change in an imperfect world. He wants them to be comfortable and complacent, so that they keep coming back and scrolling through the News Feed.
The idea that Facebook can create acceptable guidelines for 1.65 billion users from all around the globe is the dictionary definition of a fool's errand, and yet they seem intent on doing it. "To pretend that it is possible to create common, global rules for what may and what may not be published, only throws dust into peoples' eyes," Hansen writes. At some point, when you try to satisfy that many people, you end up with a product so boring and inoffensive as to be useless.