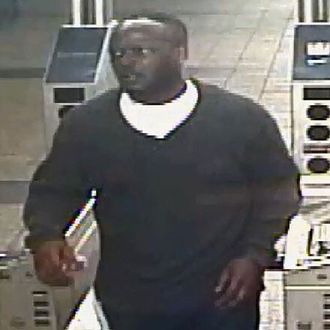 The alleged slasher.
Photo: NYPD
The NYPD is searching for the suspect behind a gruesome slashing at the Bryant Park subway station on Thursday morning. Two straphangers reportedly got into an argument on a northbound D train that escalated and turned physical. The two men were allegedly pushing and shoving each other when one lunged at the other and sliced him across the face, chest, and hands with a box cutter.
The 38-year-old victim, blood dripping from his wounds, reportedly chased the attacker onto the platform and up the subway stairs to the street, but the suspect got away. NBC 4 captured video of the bloodied victim, and an emptied train, after the incident:
The victim was hospitalized, but his wounds were not life-threatening. Police recovered the box cutter at the scene that they believed was used in the attack.
A rash of slashings in the city at the beginning of this year put everyone on high alert, forcing the NYPD to step up subway patrols and even bringing the Guardian Angels out for regular watch shifts underground for the first time since 1994. But the universe apparently righted itself — or the NYPD's bad pun of an operation, "Cutting Edge," actually worked — because, according to NBC 4, New York City has logged just about an equal number of slashings this year as in this same period in 2015. That's 53 in 2015, one less than the 52 in 2016 so far.