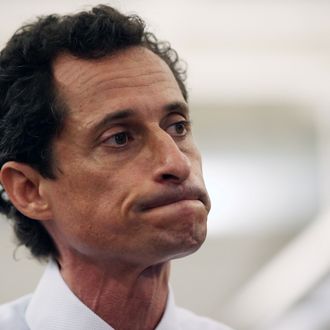 Anthony Weiner.
Photo: John Moore/2013 Getty Images
"We're looking to see if a crime was committed in New York and if there's a complainant," an NYPD official told the New York Post, after allegations surfaced that Anthony Weiner sent sexual text messages and explicit photos to a 15-year-old girl.
According to reports, the Special Victims Unit and the Manhattan district attorney are reviewing the claims, which were first published Wednesday in the Daily Mail. An unidentified high-school student said the 52-year-old disgraced politician sent her sexual photos and messages under the alias "T Dog" over a period of several months, starting in January.
In addition, CNN reports that prosecutors from the office of Preet Bharara, the U.S. Attorney for the Southern District of New York, have issued a subpoena for Weiner's cell phone and other records, and the FBI has opened a preliminary investigation into the matter.
Weiner offered the following statement:
I have repeatedly demonstrated terrible judgment about the people I have communicated with online and the things I have sent. I am filled with regret and heartbroken for those I have hurt. While I have provided the Daily Mail with information showing that I have likely been the subject of a hoax, I have no one to blame but me for putting myself in this position. I am sorry.
Cyrus Vance, the Manhattan D.A., declined to comment on any possible investigation. This is just the latest trouble for the former congressman, who resigned his House seat in 2011 after his first sexting scandal. His online antics as "Carlos Danger" got him in trouble again and foiled his run in the 2013 mayoral Democratic primary. In August, Weiner made headlines again after reportedly sending a "crotch shot" with his 4-year-old son in the photo. The incident led to the public separation of Weiner and his wife, Clinton aide Huma Abedin, and had reportedly been examined by the New York City Administration for Children's Services.
This post has been updated to include the subpoena issued by the U.S. Attorney's office.