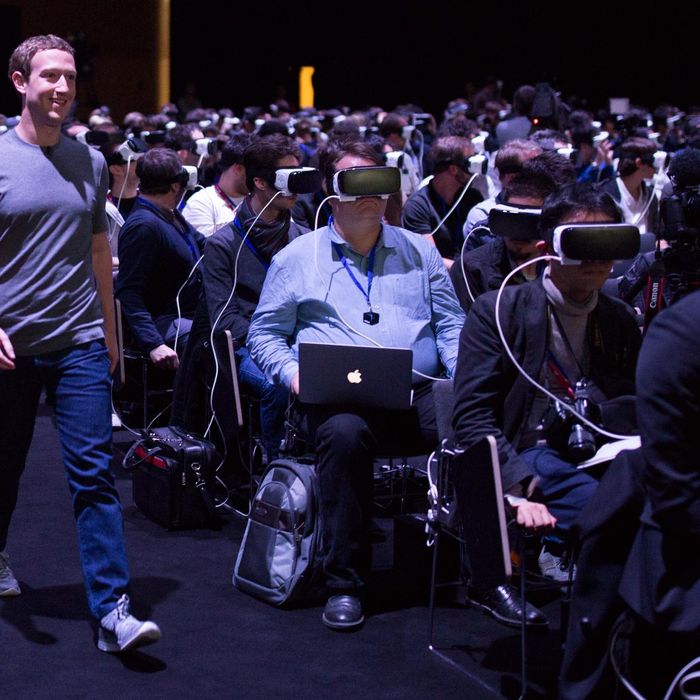 Facebook CEO Mark Zuckerberg is betting big on Oculus, a division run by a millionaire troll.
In 2014, Facebook purchased Oculus, the much-buzzed-about virtual-reality company that makes the Oculus Rift, for $2 billion dollars. The deal made its founder, then–22-year-old Palmer Luckey, incredibly rich. Forbes currently estimates his net worth at $700 million.
And where's that money going? This evening, the Daily Beast reports that Luckey is funding Nimble America, "a social welfare 501(c)(4) nonprofit dedicated to shitposting in real life" that supports Donald Trump for president. It is responsible for, among other things, a digital billboard outside Pittsburgh that depicts Hillary Clinton as "too big to jail."
From the Daily Beast:
Luckey insists he's just the group's the money man—a wealthy booster who thought the meddlesome idea was funny. But he is also listed as the vice-president of the group on its website.

"It's something that no campaign is going to run," Luckey said of the proposed billboards for the project.

"I've got plenty of money," Luckey added. "Money is not my issue. I thought it sounded like a real jolly good time."

Luckey collaborated with two moderators of r/The_Donald, the subreddit where Trump supporters congregate, to hold a fundraiser whose contributions would be matched by Luckey. Users called their bluff, complaining that the fundraisers were simply trying to make money off of the subreddit.
Luckey, who posted on the subreddit under the pseudonym NimbleRichMan, wrote comments like, "You can't fight the American elite without serious firepower. They will outspend you and destroy you by any and all means."
Before directly funding the project, Luckey collaborated with Milo Yiannopoulos, the racist, transphobic Breitbart editor and online agitator most famous for being voted the shittiest Twitter account of 2015.
"I came into touch with them over Facebook," Luckey said of the band of trolls behind the operation. "It went along the lines of 'hey, I have a bunch of money. I would love to see more of this stuff.' They wanted to build buzz and do fundraising."
According to the financial statement available on its website, Nimble America has brought in over $10,000 in donations and seed money, and spent around the same amount — the vast majority on a retainer for its lawyer, but also $276.37 on billboards, $75 on Facebook ads, and $126.78 on "Ops - Website." It's unclear if the group has actually funded or participated in any of the promised shitposting and "meme magic."
Facebook, which counts Trump delegate Peter Thiel among its board members, has yet to comment on the matter.