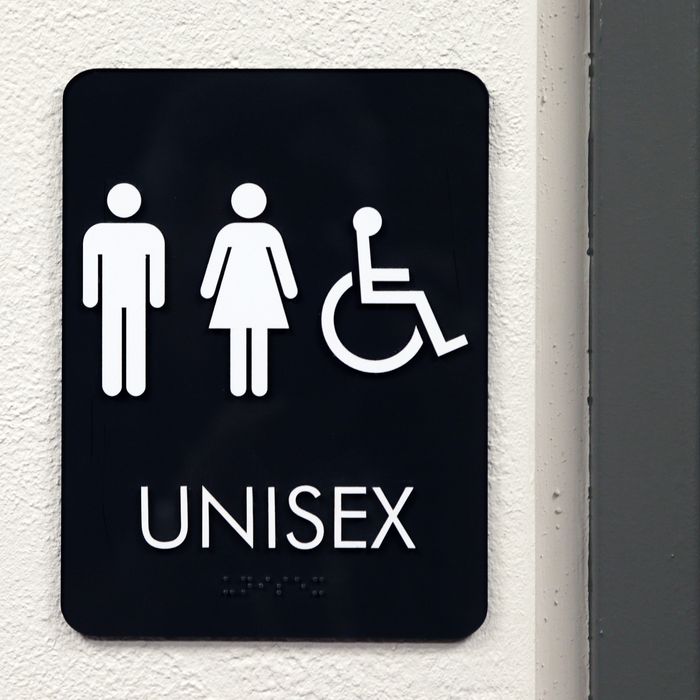 Bathrooms have become a hot-button issue.
Photo: Boston Globe/Getty Images
A federal judge in Ohio has vigorously upheld the White House's guidelines on public facilities for transgender people, striking down a challenge from the school district in Morrow County, Ohio, telling the schools to treat a female transgender student "like the girl she is."
Highland Local School District in Morrow County had sought to block a federal directive that asked public schools to allow students to use the facilities — like bathrooms and locker rooms — that correspond to their gender identities, even if that does not match the sex on their birth certificates.
The schools had argued that they did provide facilities for the student in question in the school's office, separate from the bathrooms used by other students.
Judge Algenon Marbley seemed to agree with the 11-year-old student's parents that using a separate bathroom took an unfair "toll on her mental health," and said there was "no evidence" that the student in question would pose a threat to the privacy or safety of other students.
He wrote, "[S]chool districts that have encountered these very issues have been able to integrate transgender students fully into the academic and social community without disruption, and certainly without the doomsday scenarios Highland predicts, such as sexual predators entering an elementary-school restroom."
A federal district court in Texas had issued an injunction against enforcement of the federal government's regulations in a lawsuit filed by a dozen states. But Judge Marbley made clear that that injunction did not apply to Ohio because Ohio wasn't one of the states involved in that lawsuit, and because Highland Schools had brought their case to court before the Texas ruling.
He said that, aside from providing her access to the girls' restroom, the school district should treat her as a girl in all ways, including only using her preferred female name and referring to her using female pronouns.
If the school district continues to not follow the federal directive, it stands to lose $1 million a year in federal funding.